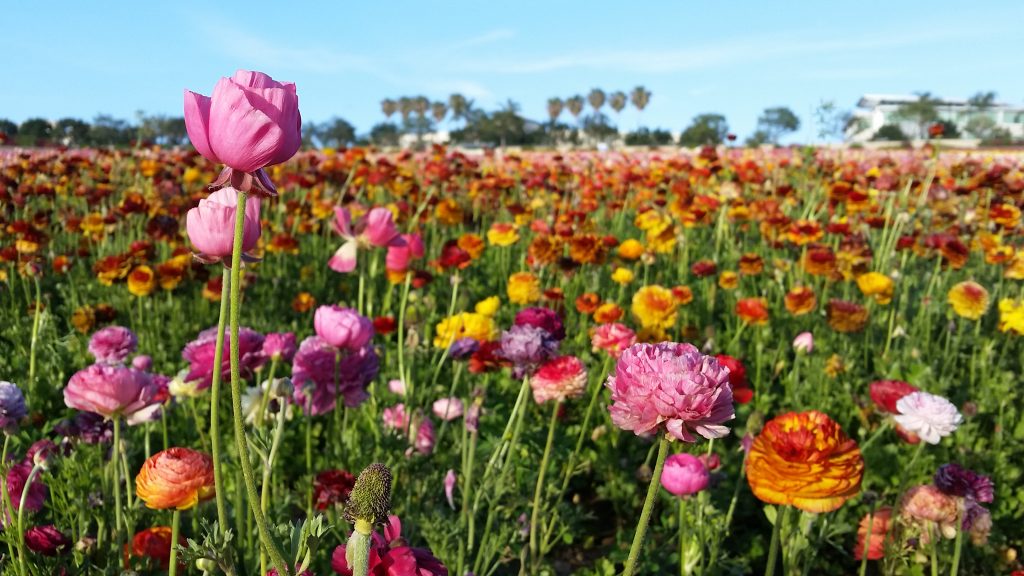 : We suggest setting up any carpools prior to going to the meeting point. We will not be able to leave any cars at the meeting location. All cars will caravan from the meeting point to the flower fields area.
TRAIL NAME: Flower Fields walk in Carlsbad, CA
HIKE DATE: Saturday, March 30, 2019
MEETING TIME: 7:45 am to 8:00 am
– Please be there on time so we can start the caravan at 8:00 am promptly.
– Come earlier if you intend on ordering any coffee/drinks/food.
Finish Approx: 12:30 pm (At event location)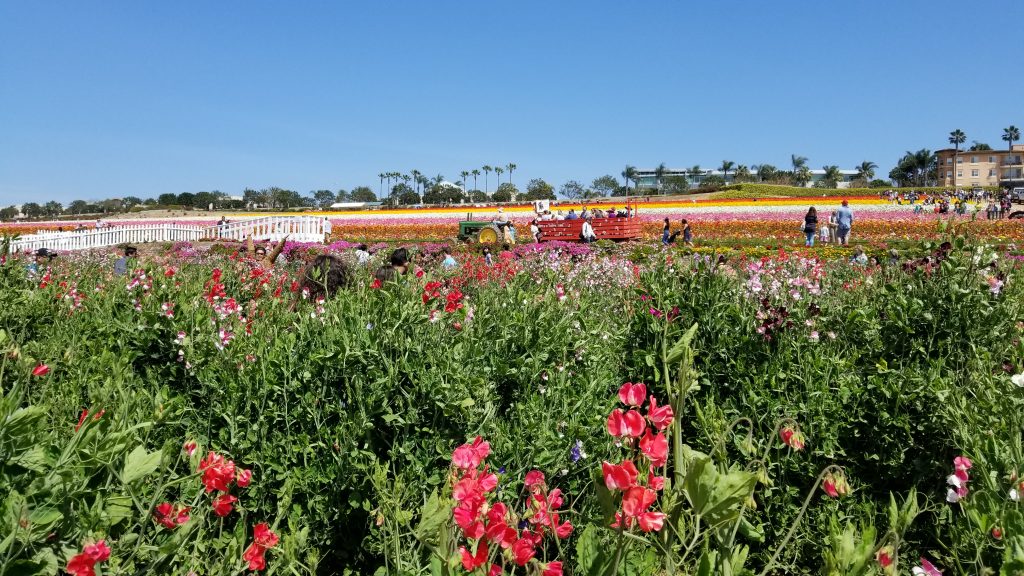 LATH HIKE LEAD: Jason Bazalar
HIKE LEVEL: Level 1 – (Easy walk, short distance, very short uphill areas, mostly flat)
WHAT IS A HIKING LEVEL?:
Find out more about hiking levels here:
https://latrailhikers.com/about/hike-levels/
HIKE RSVP (Optional):
Help us find out who is attending by RSVPing via Facebook (optional if you don't have one):
https://www.facebook.com/latrailhikers/events

HIKE DISTANCE: 0.5 – 1 miles
HIKE/WALK DURATION: 2 hours (approx)
Optional excursion: 30 mins (approx)
MEETING POINT:
Starbucks (Slauson & I-5)
7724 Telegraph Rd,
Los Angeles, CA 90040

DIRECT LINK: https://goo.gl/maps/7TNDTzEEcZk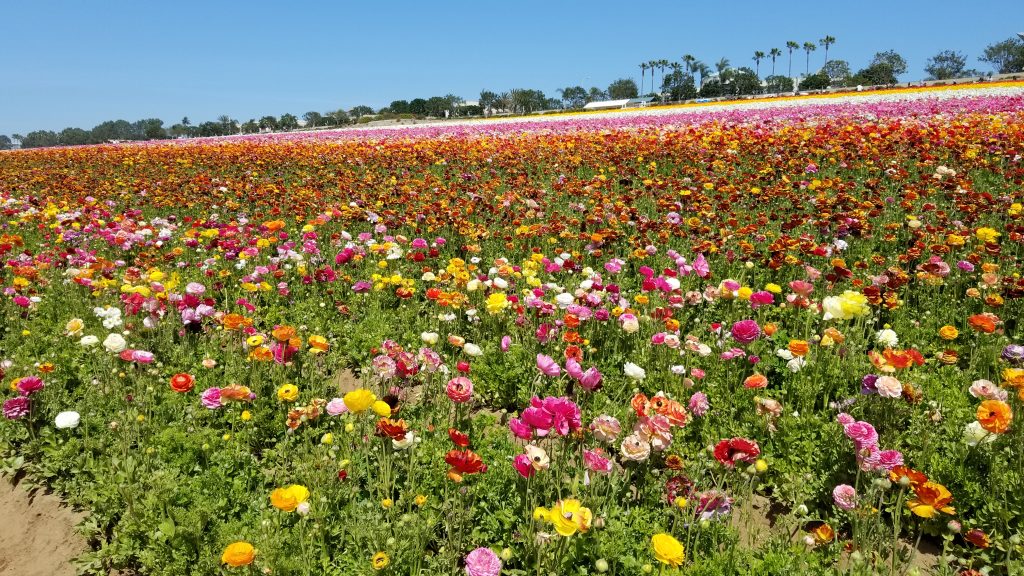 CARAVAN: From here we will caravan to the flower fields area.
TRAVEL TIME: 1h 10 mins to 1h 40 mins (depending on traffic flow)
PARKING: Free at the lot.

ENTRANCE FEES:
A full listing can be seen here: http://www.theflowerfields.com/visitor-information/
Admission Charges:
– Adults: $18
– AAA: $17
– Seniors 60+: $16
– Children 3-10: $9
Wagon Ride (Separate from Admission)
– Adults: $5
– Children 3-10: $3
Credit Cards are accepted at ticket office. However, you'll want to bring cash for any snacks you may want to purchase inside.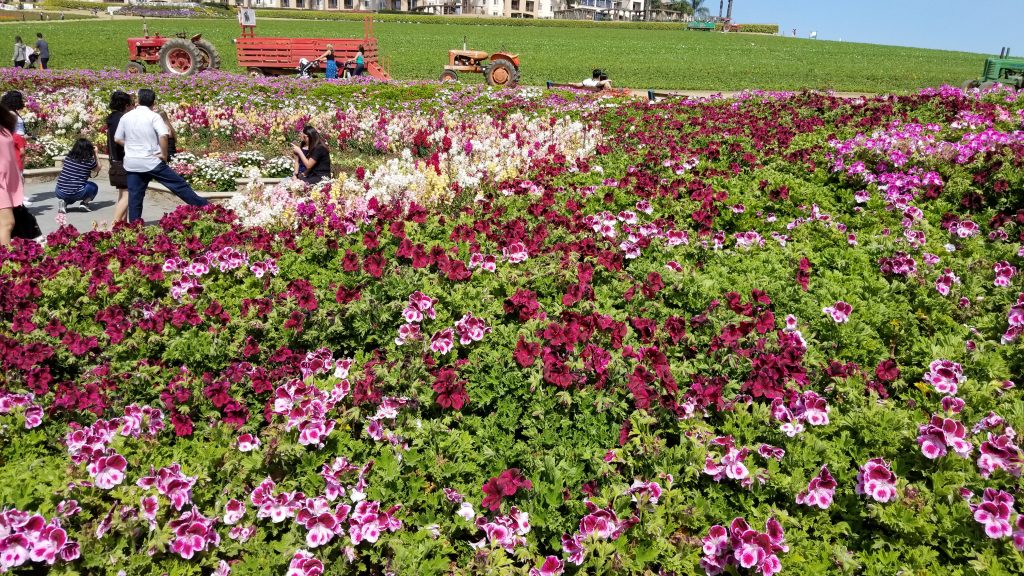 TRAIL WALKTHROUGH: This field trip provides a great easy walk/hike on the 50 acre lot that has a beautiful setup of Giant Ranunculus flowers along with other garden exhibit of plants and flowers. We'll be walking around the area together to discover the different exhibits and photo opportunities. This is a general walking tour of the flower fields area. If the entire group agrees, we can do optional Wagon Ride (additional fee). No official hiking gear is needed (other than water, sunscreen, and a hat). Come dressed comfortably in spring attire (just make sure you can walk comfortably, even on dirt paths).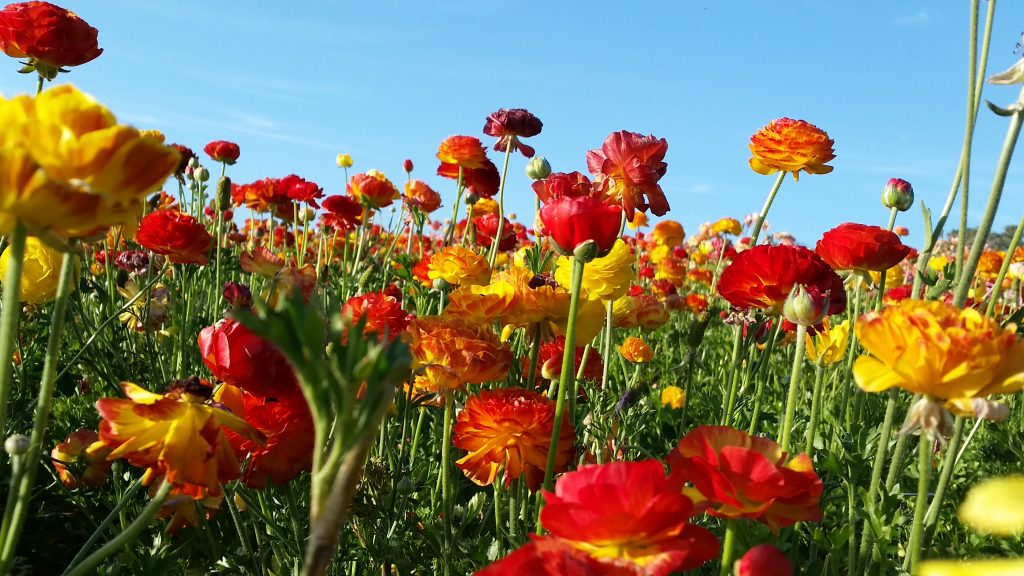 Additionally, after the event, we will have a highly optional excursion to a succulent business where you can get some really great priced succulents. It's only about a 9 min drive. The hike lead will give you information about this place at once the walk is over.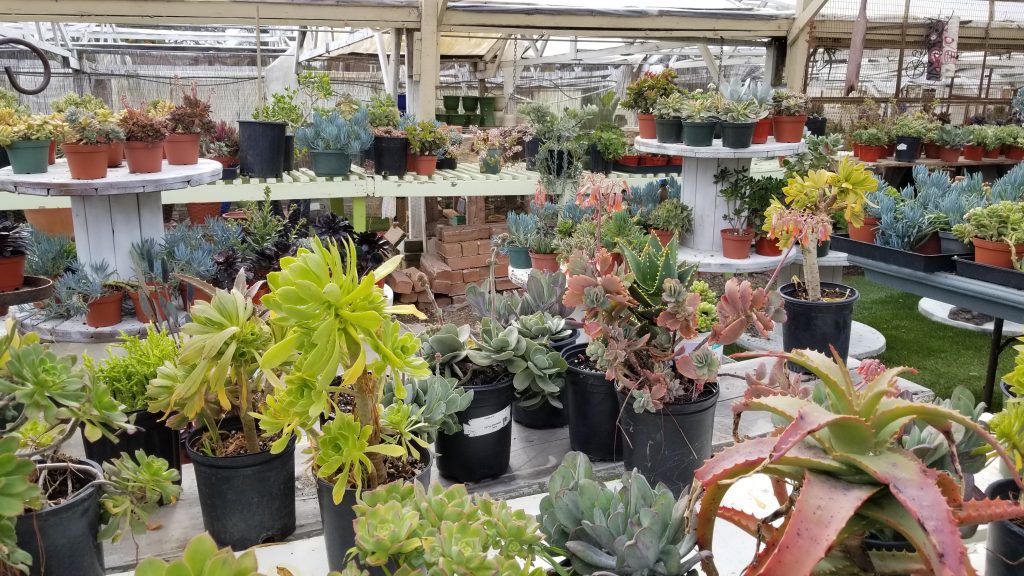 REQUIRED: At couple of 20 oz (small) bottle of water, sunscreen, a hat/round brim hat, comfortable walking shoes.
RECOMMENDED: Come dressed comfortably for a spring walk (no hiking backbacks or wear is required), a few snacks, and a great attitude. Don't forget your spring/summer hats.
DOG-FRIENDLY?: No. Sorry, this is not an open nature park or area.
HOW DO I PARTICIPATE WITH THE GROUP ON THIS HIKE?
1. Read the Hike's Details on this page.
2. Make sure that the Hike Level accommodates your hiking experience.
3. If, and only if it suits you, then RSVP for this event and show up the day of the hike with all necessary gear and water (we mention everything you need on the details page for this hike).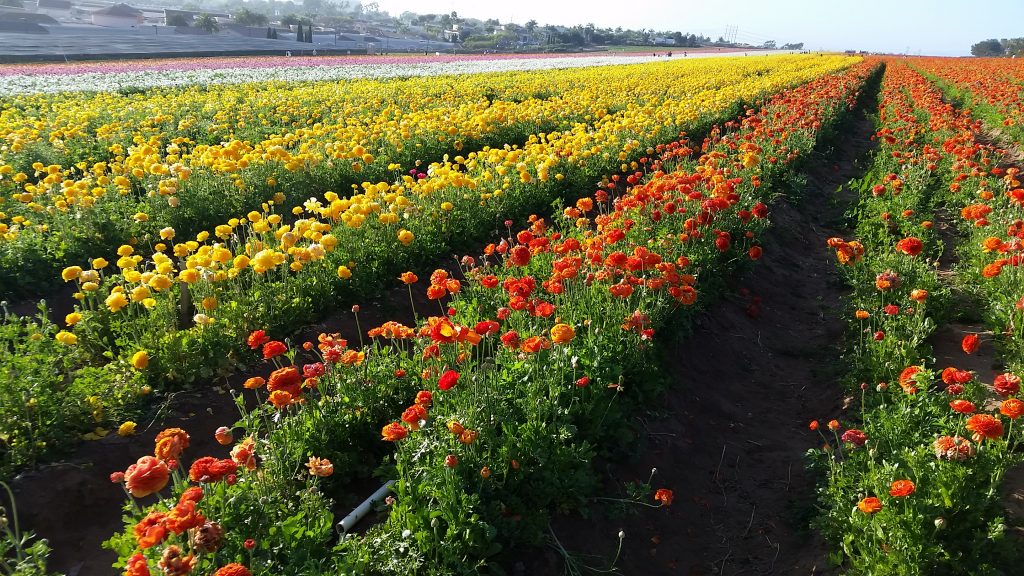 MY FRIEND SAID I CAN DO THIS HIKE, I SHOULD BE ABLE TO DO IT, RIGHT?
We take your safety quite seriously, and would not like for you to attend a hike you're not ready for. You know your body and hiking experience better than your friends. Whether you are a first-timer or an experienced hiker, please read our hike details page as the hike may not suite your experience level. We have a better experience if every hike has hikers of the intended level.
DISCLAIMER: LA Trail Hikers and its Leads/Organizers/Participants do not take responsibility for any harm,bodily injury, accidents, or damage to personal property. By clicking "Attending," or attending the hike, you confirming that you understand that all outdoor activity such as hiking, backpacking, and trekking have an associated danger, and will not hold any hike lead/organizer, participant, LA Trail Hikers, or any group associated pet responsible for any hazard to your well being. Additionally, you will not be allowed to participate with the group if you are not adequately prepared with enough water and the right gear/equipment/nutrition essential to complete the hike. You are fully responsible for yourself.