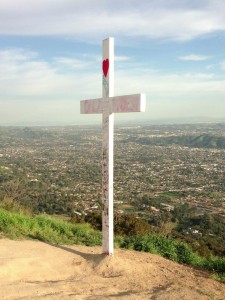 REAL HIKE NAME: Garcia Trail to Azusa Peak and Glendora Peak
HIKE DATE: Saturday, May 11, 2013
MEETUP TIME: 8:00am
(We'll wait about 15 mins at the meeting point)
HIKE LEAD: Tony Ramos
HIKE LEVEL: Level 6
WHAT IS A HIKING LEVEL?:
Find out more about hiking levels here:
https://latrailhikers.com/about/hike-levels/
MEETUP LOCATION:
Trail Head – In Front of LA County Fire Station
18453 E. Sierra Madre Ave.
Azusa, CA 91702
HIKE DURATION: 3.5 hours
HIKE DISTANCE: 5 miles approx. (round-trip)
HIKE GAIN: 1,800 approx.
TRAIL WALK-THRU: The trail starts right next to LA County Fire Station and is steep and difficult. This is not a recommended first time or beginner hikers. We will start off on a steep and strenuous incline of about 1.3 miles to reach our first destination – the famous white cross (it's intense). Then, we'll continue in an easier gradual incline for about another mile to Glendora Peak. There are even bigger and more scenic views of the surrounding mountains and city in the distance from this peak. The scenic view from the top of both peaks and workout will be worth the hike. We then will go down the same way we went up with a slight shortcut but should be relatively quick and easy as it is all downhill.
WATER REQUIRED. WATER CHECK WILL BE PERFORMED. If you do not take enough water or are not appropriately equipped for this hike, you will be turned away from doing this hike with us even if you show up. Please note, that we have expectations for Level 6 hikers. Read all the details.
REQUIRED: WATER, at least 1 liter or about three 20oz water bottles. Comfortable walking/tennis/hiking shoes.
RECOMMENDED: Small snack. Hiking pole. Sun Screen. Pack light and wear light colors. Shorts or Long pants are fine (windbreakers or light gym pants)
NOTE: This is a real work out, you will sweat. This is not a very shady hike, (Sunscreen recommended).
DOG FRIENDLY?: Yes, but not recommended
HIKE RSVP:
Facebook – http://www.facebook.com/latrailhikers?sk=events
HOW DO I PARTICIPATE WITH THE GROUP ON THIS HIKE?
1. Read the Hike's Details we link at the very top of this page.
2. Make sure that the Hike Level accommodates your hiking experience.
3. If, and only if it suits you, then RSVP for this event and show up the day of the hike with all necessary gear and water (we mention everything you need on the details page for this hike).
MY FRIEND SAID I CAN DO THIS HIKE, I SHOULD BE ABLE TO DO IT, RIGHT?
Contrary to popular belief, you know your body and hiking experience better than your friends. Whether you are a first-timer or an experienced hiker, please read our hike details page as the hike may not suite your experience level. We have a better experience if every hike has hikers of the intended level.
DISCLAIMER: LA Trail Hikers and its Leads/Organizers/Participants do not take responsibility for any harm,bodily injury, accidents, or damage to personal property. By clicking "Attending," or attending the hike, you confirming that you understand that all outdoor activity such as hiking, backpacking, and trekking have an associated danger, and will not hold any hike lead/organizer, participant, LA Trail Hikers, or any group associated pet responsible for any hazard to your well being. Additionally, you will not be allowed to participate with the group if you are not adequately prepared with enough water and the right gear/equipment/nutrition essential to complete the hike. You are fully responsible for yourself.
PARKING MAP:
Look at the map that follows this one for zoomable features.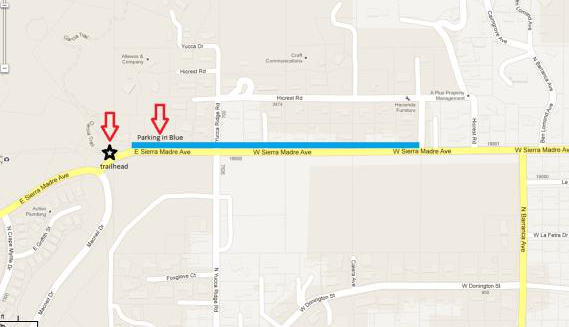 MAP: