2016 LA Trail Hikers Mammoth Mountain Road Trip Hike
Event Date: Saturday, October 1, 2016
Meeting Time: 7:30am – 7:50am
Meeting Location:
Vons (Parking Lot) at Minaret Village Shopping Center
481 Old Mammoth Rd.
Mammoth Lakes, CA 93546
LATH Hike Leads: Carol Martinez, Diana Herrera, Janiece Cordova, Jason Bazalar, Sylvia Quinteros
Group Picture: Given that our groups will split in the morning, we'll go ahead and take at the group picture nearby  the meeting point shortly after meeting. That way we have everyone in the picture.
Hike Destinations:
There will be 3 to 4 hikes (depending on hiker attendance) departing from the meeting point. You will be able to choose which one to attend. All hikes will be day hikes. One will go to Devils Postpile & Rainbow Falls. The other two will go to Crystal Lake & Lake McLeod. Each will go at a different pace depending on the group.
1) Devils Postpile (Level 1) & Rainbow Falls (Level 4) 
The hikes for this will go by the Mammoth Adventure Center/Main Lodge (8,900′ elevation), where the Mammoth statue is.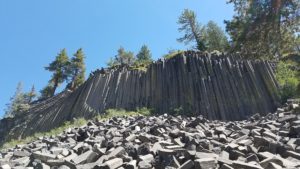 Devils Postpile (7.500′ elevation) : Groups will be lead on a hike starting from the ranger station at the Devils Postpile Monument parking lot. The postpile area is only 0.34 miles from the trailhead at 7,500′ elevation. Hikers will get to explore the lower and upper areas of the monument. The structure of the columnar basalt gives the monument its interesting features and identity. At the base you'll see the falls columns. From the top you'll be able to enjoy a tile-like flooring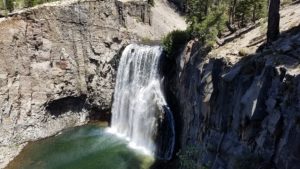 Rainbow Falls (7,850′ elevation): After Exploring the postpile area, hikers will continue on about another mile to (mile 1.2) to get to Rainbow Falls. This waterfall, part of the Middle Fork San Joaquin River, is a beautiful spectacle with many gorgeous photo opportunities.
Depending on availability, there may be an option for shuttles to take you to from the Mammoth Adventure Center area to the Parking lot. If not, then hikers will drive down into the Reds Meadow Valley area into the Devils Postpile Parking area for a designated entrance fee.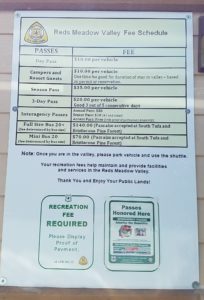 Entrance Fee (Red Meadows Ranger Kiosk): $10 per vechicle (interagency passes valid for use)
At the end, if returning back to the ranger station from Rainbow Falls, the total distance should be about 5 miles round-trip. However, if the shuttles ($7 pers person) happen to be running, it would be about 3.6 if exiting back through the Reds Meadow shuttle stop. The shuttle is no longer running this season.
2) Crystal Lake (Level 5) & Lake McLeod (Level 3)
Hikers taking this option will be able to take on the view of two amazingly beautiful lakes. Elevation will play big on these hikes as they will start at just above 8,960 ft elevation. Weather will likely be cooler in these areas due to the elevation.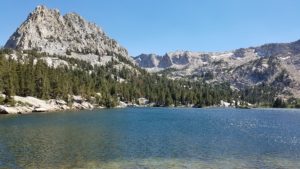 Crystal Lake (9,640′ elevation): This hike will begin at the Lake George parking area and will be the higher of the  two hikes in elevation. Expect plenty of switchbacks along the way for the first 1 mile. Given the change in elevation, you'll likely feel the intensity of the mile, so we've leveled up a few to account for acclimating as you go up. Although, this is a short hike, it will give you a nice workout and stunning views of the lakes below as you go up. After the mile marker, you'll reach a plateau area and then start to descend for the next 0.4 miles. The lake will be 1.4 miles and at an elevation of 9,640 Ft. It will be surrounded by the local mountain areas, giving this lake a very enclosed, but beautiful view. Round trip for this hike will about 2.8 miles.
Lake McLeod (9,329′ elevation): This is a shorter hike in distance, but still a good workout because of the elevation. Starting from the Horseshoe Lake parking lot, you'll go along a great route that will take you to the sandy beach-like Lake McLeod (or McCloud) 0.6 miles into the hike. You'll have an opportunity to explore the area and then return along an easier road down. Again, you'll have some views of the lower area at about mile 1.6. The total round trip distance of this hike will be about 1.8 miles.
TRAVELING TO MAMMOTH LAKES
Travel Time From L.A. to Mamoth Lakes: 5.5 – 6 hours (avg.)
High Elevation Notice: Make sure you take a day prior to the event to acclimate to the elevation at about 7,780 Feet in the general Mammoth Lakes area. For comparison, keep in mind that our local high mountain, Mt Wilson, is at 5,712 Feet elevation. Make sure you drink plenty of water (keep it handy) to help you acclimate to the elevation, as higher elevations do dehyrdate you faster. Here are some great tips for high altitude safety:
https://www.nps.gov/depo/planyourvisit/high-altitude-safety.htm
Expected Weather:
Friday – Day High 68 F / Night Low 34 F
Saturday – Day High 61 F / Night Low 25 F (please pack layers accordingly)
Sunday –  Day High 56 F / Night Low 25 F
Before you travel to Mammoth Lakes:
— Make sure your car's tires are set with the suggested tire pressure.
— Check breaks. Check oil, A/C, and Air filters.
— Keep water handy to drink while you're on the road. You'll need water along the way.
— Keep a few snacks handy as well.
— You may encounter areas where radio signal is weak, so you may want to pack up some tunes (CD's, MP3 players, etc.) to keep you going.
— Carpooling to Mammoth Lakes is highly recommended.
— Remember to pack for the associated weather. You may want to take good layers to keep your body adequately warm or cool.
— Take drinking water as your accommodation may not have accessible drinking water unless you go purchase some elsewhere. The elevation will cause you to be slightly more thirsty than normal, so make sure you always have water handy.
Pack your hiking essentials:
— Hiking shoes/boots (optional: hiking socks)
— Hiking Poles
— Backpack/Hydration Pack
— Snacks
— Water
Recommended Points of Interest:
Here are a few places you might want to visit on your way to to Mammoth Lakes.
1) Erick Schat's Bakkery (Bishop, CA): This bakery is quite popular and known for its Sheepherder's Bread.  However, it the cheese bread is a fan favorite.  This place is a must try, and bread worth having while on your trip, plus you'll pass it along the way.  (https://www.yelp.com/biz/erick-schats-bakkery-bishop-2)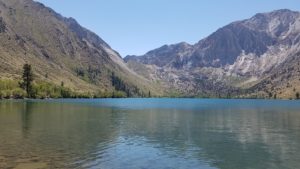 2) Convict Lake (Mammoth Lakes, CA): With an elevation of 7,850 Feet, this is a great first opportunity to visit a lake in the Mammoth area. As you approach the Mammoth/Yosemite aiport, make sure you take this little side trip by turning left on Convict Lake Rd. You'll take about a 10 min drive to get up there. Enjoy the view of the area and get to know the beauty of the area before our hikes on our road trip hike.
Prior to going to the Meeting Location:
— Fill up your car's gas tank.
— Pack all your day's hiking water and snacks.
— Pack all your hiking gear and essentials.
— Hat, (Hydration) backpack, sunscreen, light hiking clothes, extra water, comfortable shoes for hiking, and after hike snacks.
— HAVE A GOOD/LITE BREAKFAST before heading to the meeting point
— MAKE SURE YOU PACK A GOOD LUNCH  FOR THE TRIP.
— Leave unnecessary items back at your accommodations so you have plenty of space in your vehicle.
— Parking at certain stops in the park may be limited in spaces, so please consider carpooling (consolidating car rides) on the day of the hike. Ideally prior to going to the meeting point.
— Consolidate before you go to the meeting to the caravan to the park.
— Make sure to use the restroom prior to arriving to the meeting point.
— We'll take about 1 hour to get to the park after we leave the meeting point.
— We suggest you getting a good night's rest on Friday night (to acclimate to the elevation)
— We need you to be 100% on the morning/day of the hike.
— You'll have plenty of time to enjoy the Mammoth Mountain area on our own after the intended event.
While at Mammoth hiking areas:
— Please be considerate to other visitors and hikers.
— Don't leave any trash.
— Pick up after your kids and pets.
— No alcohol is allowed during the event.
— Please park only in designated areas.
— Have a fun time hiking.
Suggested activities after the event:
1) Drive to visit Mono Lake
2) Visit the Natural Hot Springs at Mammoth
3) Take a bike ride along designated roads
4) Go on a different Lake hike in the Mammoth Lakes area.
How do I participate on this group road trip hike?
1. Read the Hike's Details above.
2. Make sure that the Hike Levels accommodates your hiking experience. There are different hikes in this case.
3. Understand that all accommodations, transportation, and all financial needs will be the responsibility of each attending hiker.
4. If, and only if it suits you, then RSVP for this event via Facebook and show up the day of the hike with all necessary gear and water (we mention everything you need on the details page for this hike).
DISCLAIMER: LA Trail Hikers and its Leads/Organizers/Participants do not take responsibility for any harm,bodily injury, accidents, or damage to personal property. By attending the hike event, you confirming that you understand that all outdoor activity such as hiking, backpacking, and trekking have an associated danger, and will not hold any hike lead/organizer, participant, LA Trail Hikers, or any group associated pet responsible for any hazard to your well being. Additionally, you will not be allowed to participate with the group if you are not adequately prepared with enough water and the right gear/equipment/nutrition essential to complete the hike. You are fully responsible for yourself.
Meeting Point Map: