2018 SEQUOIA / KINGS CANYON NATIONAL PARKS ROAD TRIP
Main Event Date: Saturday, September 29th, 2018
Optional Activities: Friday, September 28, 2018 & Sunday, September 30, 2018 (noted after main event info below)
Meeting Time: 7:45 – 8:00AM
Meeting Location:
Giant Forest Museum (Parking Lot)
47050 Generals Hwy
Three Rivers, CA 93271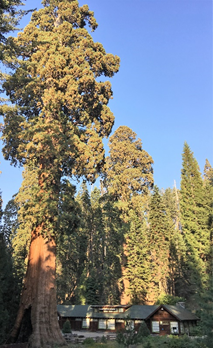 The museum is located in the Giant Forest Area of Sequoia National Park, and home to the Sentinel Tree.  It is a 45 minute drive from the park south entrance PLUS up to 20 minutes for road construction on weekends (see the ROAD CONSTRUCTION DELAY section below). The parking lot and photo spot is across the street from the museum.
LATH Hike Leads: Robert Bittner, Jason Bazalar & Carol Martinez
Group Picture: We will take one at the meeting location.
HIKE RSVP:
https://www.facebook.com/latrailhikers/events
WHAT IS A HIKING LEVEL?:
Find out more about hiking levels here:
https://latrailhikers.com/about/hike-levels/
Saturday Hike Destinations
The primary hike schedule is shown below.  We may be able to offer secondary hikes, depending on the number of hike leads and hikers in attendance.
Saturday 8:30AM-12:30PM: Giant Forest – Trail of the Sequoias from Crescent Meadow trailhead (Level 4)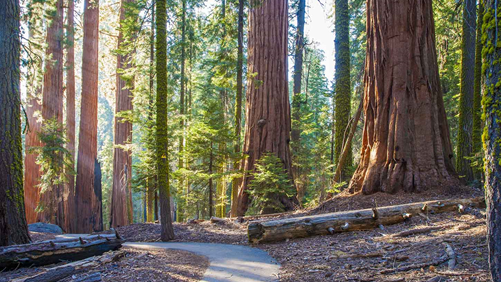 The Giant Forest area is abundant with towering trees and shaded, serene meadows.  This walk will immerse us in both.  It starts with the drive to Crescent Meadow with inspiring sights and views around every turn.  From the trailhead we'll start on the High Sierra Trail and skirt Crescent Meadow, the largest in the area and called "the gem of the Sierra" by John Muir.  We'll then walk along a stream to Log Meadow & Tharp's Log, then move onward to the Trail of the Sequoias.  Climbs through rocky slopes, fern-covered trail and manzanita groves will guide us to the most popular Sequoia grove in the park.  We'll break here for a bit, then work our way past Circle & Huckleberry Meadows before reaching Crescent Meadow again.
The Crescent Meadow Picnic Area is a comfortable place for lunch.
Saturday 1:30PM: Giant Forest – Moro Rock carpool from Crescent Meadow (Level 3)

NOTE: The parking lot at Moro Rock is small with some roadside parking as well, but only a 5 minute drive from Crescent Meadow.  Plan on carpooling.  We'll take a group picture from the top.
Easy access to marvelous mountain views with the feeling of climbing a mountain peak without the danger–the Moro Rock Staircase offers park visitors a memorable introduction to the Southern Sierra. Moro Rock is a prominent granite dome located in the center of Sequoia National Park between Giant Forest and Crescent Meadow. A 400-step stairway, built in the 1930s by the Civilian Conservation Corps, enables park visitors to hike to the top. The stairway is listed on the National Register of Historic Places. The splendid view from the top of the rock encompasses much of the park's western side, including the Great Western Divide. The observation area on top of the rock has an elevation of 6,725 feet (2,050 m).
Saturday after Moro Rock: TBD – options considered are
A] 3:00PM: Lodgepole – Tokopah Valley & Falls (Level 4)
B] Crystal Cave:  You could make it to the last tour of the day, which requires you to be at the Crystal Cave parking lot by 3:40PM.  Better to buy your tickets ahead of time; 50 spots currently available.
Saturday 6PM: Giant Forest – Sunset Rock from Giant Forest Museum parking lot (Level 3) 

A great place for viewing the sunset.   Bring a light for the return hike, as it can get dark quickly after sunset.
(Optional) Friday & Sunday Activities
Friday 2PM: Lakes Trail from Wolverton to either Watchtower and/or Heather Lake (Level 6)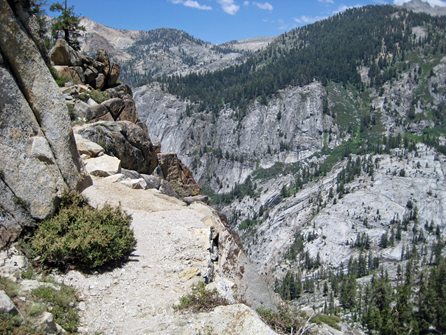 Spectacular alpine scenery, enchanting glacial lakes, endless backcountry hiking—these are among the treats awaiting hikers of the Lakes Trail in Sequoia National Park. The trail starts at Wolverton and ascends a lateral moraine to high alpine country in a mere four miles (roughly our turnaround point). Along the way are magnificent views from the Watchtower—a soaring pinnacle of granite towering nearly 2000 feet above the Tokopah Valley floor—along with a breathtaking hike along a trail blasted out of the cliff. Many backpackers rate this one of the best weekend hikes in the Sierra Nevada, so overnight permits are at a premium.
The trail starts in the Wolverton Parking Lot. Turn right at the first trail junction and climb nearly 1,000 feet along to the Panther Gap Trail junction at 1.8 miles. Turn left and continue climbing to a meadow lush with knee-high summer grasses fed by a boisterous cascade flowing down the mountainside. On the meadow's far side, the trail switchbacks upward toward the Watchtower, after which it traverses a narrow but solid path blasted out of the cliff, then ascends to Heather Lake.
Sunday 10AM:  Mist Falls near Cedar Grove.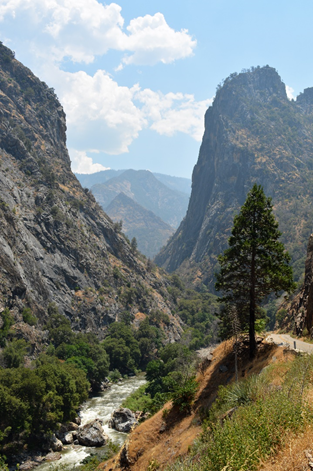 Kings Canyon is one of my favorite places in the entire Sierra Nevada Mountains, with towering granite walls, thick pine forests, roaring rivers and some fabulous waterfalls.  The Mist Falls Trail is the most popular hike there because it encompasses all of this in a comfortable hike.
Beginning at Road's End, this sandy trail follows the glaciated South Fork Canyon through forest and chaparral, past an impressive show of rapids and cascades, to one of the largest waterfalls in Sequoia and Kings Canyon National Parks. The first half of this 8-mile round trip is relatively flat; during the last mile to the falls, the trail gains 600′.  Spectacular views guide you up to the falls, a great place to enjoy lunch while soaking up the beauty.
Please note that this is a 2 HOUR drive from the Giant Forest Museum area on roads that can't be rushed, hence the 10AM start time.  If you're leaving the park Sunday after this hike, stay on Highway 180 to exit from the north entrance for and easy drive home.
KEY PARK INFORMATION:
The park entrance fee is $35 per vehicle for 1-7 days, or $80 for an Annual Pass.
There is NO GASOLINE sold in SNP & KCNP, and the free park shuttles will not be running. You should fill up along the highway prior to entering the park.  If you can access Costco, there are locations in Visalia and Fresno with gasoline.  There SHOULD BE gasoline at Stony Creek Lodge & Hume Lake in SNF nearby.  See the map for locations.
Cell phone service is weak (messaging), and primarily around the major tourist areas like Lodgepole, Giant Forest Museum, Grant Grove, etc. See CELLPHONE AND INTERNET section below for details.
Bear proof canisters or equivalent are required if you're leaving food in a vehicle or campsite. You may get fined if unattended food is spotted in your car.
Weather can change at any time, as we're on the western slopes of the high Sierras. Be prepared.
It's the high Sierras! Be prepared for weather changes, along with mosquitoes around creeks and meadows.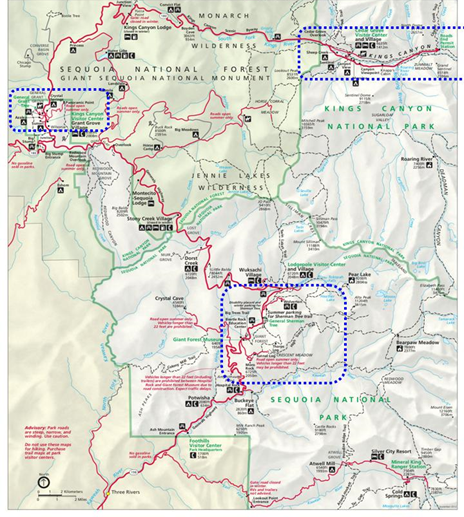 High Elevation Notice: Make sure you take a day prior to the event to acclimate to the elevation of ~7000 ft. For comparison, keep in mind that our local high mountain, Mt Wilson, is at 5,712 Feet elevation. Make sure you drink plenty of water (keep it handy) to help you acclimate to the elevation, as higher elevations do dehydrate you faster. The link below provides some great tips for high altitude safety:
https://www.nps.gov/depo/planyourvisit/high-altitude-safety.htm
There are numerous ALTERNATE HIKES in the park.  Some of the better ones are: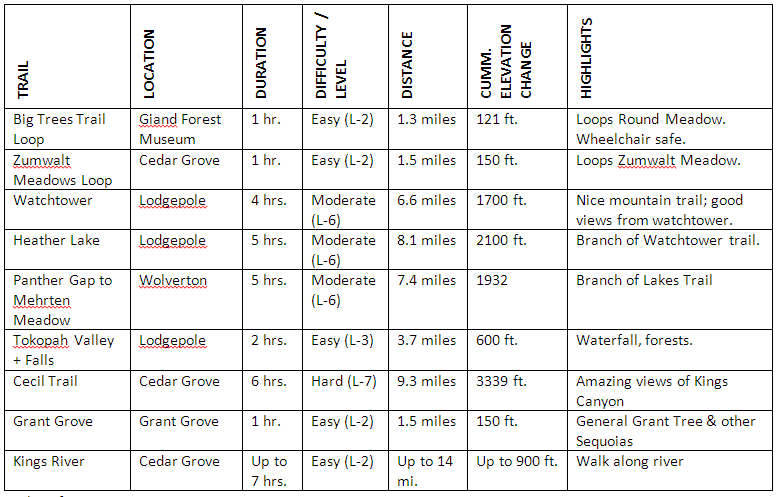 Hike information:
https://www.nps.gov/seki/planyourvisit/trailcond.htm

Trail of the Sequoias:
https://modernhiker.com/hike/hike-the-trail-of-the-sequoias/
Moro Rock                                          https://www.alltrails.com/explore/trail/us/california/moro-rock-trail
Mist Falls                                             https://www.alltrails.com/explore/trail/us/california/mist-falls
Other potential hikes.  Most can be found on AllTrails:
Sunset Rock                                       https://www.alltrails.com/explore/trail/us/california/sunset-rock

More Information on Sequoia
Want to know more about and discover the park at your own leisure, get important phone numbers, park facilities, park shuttle, camping (guidelines), and more? Check out the Sequoia and Kings Canyon Visitor Guide — Summer 2018 at:
https://www.nps.gov/seki/learn/news/newspaper.htm
Traveling to Sequoia National Park
(~4 1/2 hours + time to escape L. A. traffic)
There are two park entrances.  All routes start by taking Highway 5 north.  Choose whether you want to use the north or south entrance to reach your destination.  The most common routes are:
North Entrance; All major highway ~4 3/4 hours = HWY 99 north / HWY 180 east.  Recommended route if you get carsick.
North Entrance; Major highway & secondary roads ~4 1/2 hours = HWY 99 north / Plaza Dr. north / Avenue 384 east / Road 120 north / HWY 180 east into the park.  A little more interesting drive through backroads.
South Entrance; Major highway & secondary roads ~5.0 hours = (1) (2) HWY 99 north / HWY 65 north / HWY 198 east into the park.  The last 30-60 minutes is a winding climb.
The south entrance and most roads within the park are winding mountain byways, for which the speed limits and predicted travel times are accurate.
There is road construction on Highway 198 south of Giant Forest that will affect your drive. For Friday thru Sunday, there will be no delays when both lanes are open.  When highway is limited to one lane, expect delays up to 20 minutes. Temporary traffic lights will control traffic.
Vehicles over 22 feet are not allowed in the south entrance.  See ROAD CONSTRUCTION DELAY below for closure details beyond the weekend.
The most convenient cities to "stock up" on the way are Visalia and Fresno.  FYI there are four Costco's near Fresno, including some with gas stations.  There's also a Sam's Club.  There's a Costco with gasoline in Visalia.
If you're coming up Highway 65, there's a nice produce stand at Cairns Corner in Lindsay.
The Saturday hikes will be at ~7000 ft. elevation.  Use due diligence to acclimate and have plenty of water.  A number of the popular trailheads and tourist stops have drinking water refill spigots.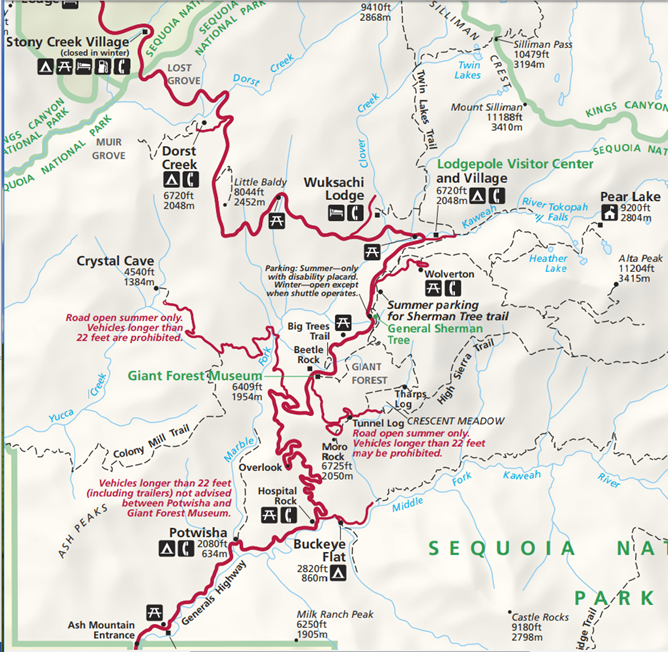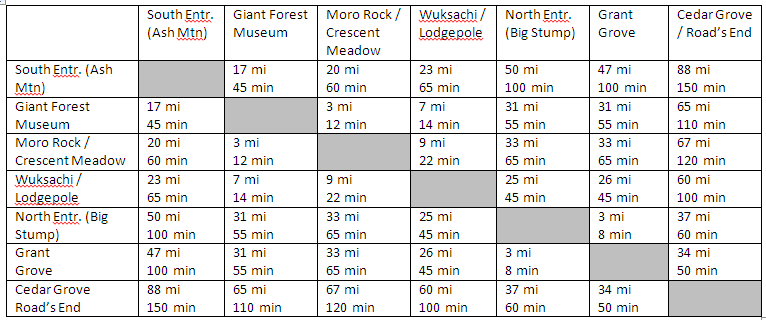 Before you travel to Sequioa:
— Make sure your car's tires are set with the suggested tire pressure.
— Check breaks. Check oil, A/C, and Air filters.
— Keep water handy to drink while you're on the road. You'll need water along the way.
— Keep a few snacks handy as well.
— You may encounter areas where radio signal is weak, so you may want to pack up some tunes (CD's, MP3 players, etc.) to keep you going.
— Carpooling is highly recommended.
— Remember to pack for the associated weather. You may want to take good layers to keep your body adequately warm or cool.
— Take drinking water as your accommodation may not have accessible drinking water unless you go purchase some elsewhere. The elevation will cause you to be slightly more thirsty than normal, so make sure you always have water handy.
Pack your hiking essentials:
— Hiking shoes/boots (optional: hiking socks)
— Hiking Poles
— Backpack/Hydration Pack
— Snacks
— Water
ROAD CONSTRUCTION DELAYS
You will likely experience road construction delays if you are entering the park on Highway 1998 from the south, as the road is reduced to one lane.  Uphill traffic will be allowed through the construction zone first, then downhill traffic, as follows:
Monday-Friday from 6:00AM- 7:00AM
Up to 20 minute delays. Traffic lights will control traffic, uphill traffic first.
Monday-Friday from 7:00AM – 7:00PM
Up to 1-hour delays. Uphill traffic first, downhill traffic will follow after the uphill traffic has successfully cleared the construction zone. Once both lanes of traffic have been cleared, the construction zone will close to all traffic, until the top of the next hour.  (So, if you don't get through with the 7AM group, you will be waiting until 8AM, and so on).
Monday-Thursday from 7:00PM – 8:00PM
Up to 20 minute delays. Traffic lights will control traffic, uphill traffic first.
Monday- Thursday from 8:00 pm – 6:00 am
Both lanes will close for 10 hours, one pass-through at 8:00 pm and another at 11:30 pm, uphill traffic first.
Weekends and Holidays
No delays when both lanes are open. When highway is limited to one lane, expect delays up to 20 minutes. Traffic lights will control traffic.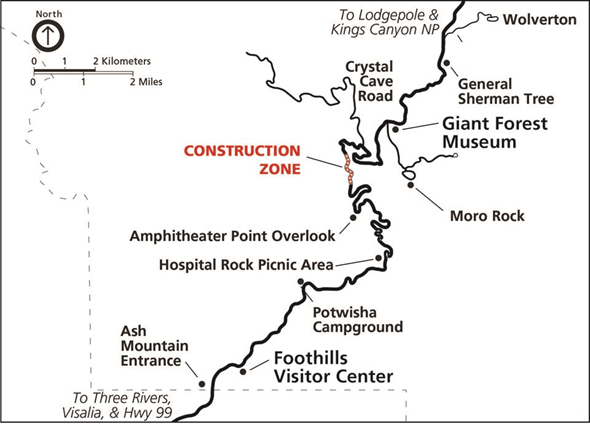 Accommodations
The odd shape of Sequoia's northwest section is the result of capturing prime Sequoia grove areas within the park's protected area.  Sequoia National Forest surrounds the western region, providing places to stay beyond the park rooms and campgrounds.
Our Saturday activities are planned between Lodgepole Visitor Center and the Crescent Meadow area.  There are individual and group camp sites through there, some RV sites, and rooms are at Wuksachi Lodge & Stony Creek Village.
Rooms inside the park:
Wuksachi Lodge                               102 rooms with baths, full service restaurant & lounge
Stony Creek Lodge (B & B)           11 rooms, small restaurant, ATM, gas station
Muir Lodge                                         36 rooms with baths, cabins with shared bathhouse
Cedar Grove is ~2 hour drive in Kings Canyon and has 21 rooms.
Lots of lodging outside the National Park.  Most are along Highway 198 towards the south entrance; check https://www.nps.gov/seki/planyourvisit/lodgingoutsideparks.htm.  There's also tent, trailer & RV sites.
CELLPHONE AND INTERNET SERVICE
(from https://www.visitsequoia.com/explore/trip-planner/faq):
Cell Phone
Please know that very few areas of Sequoia and Kings Canyon have cell phone service. Depending on your carrier, you may get service in some spots in the parks, but you should not count on it. You will not have reception at Wuksachi Lodge. Some guests may get reception at John Muir Lodge. If anyone needs to reach you during your stay, they can also call the hotel direct at (559) 565-4070 ext. 0.
Internet
Wireless internet is available in the common areas of Wuksachi and John Muir Lodges. This includes the lobby of John Muir Lodge and the lobby, restaurant, lounge, and meeting rooms of Wuksachi Lodge.
Due to the park's remote location, internet is limited at both John Muir Lodge and Wuksachi Lodge. Our internet is provided via satellite which has limited bandwidth, low speeds and high "latency." Latency is the amount of time it takes to respond to a request. There is no way to improve the latency of a satellite connection because every request must travel the equivalent of more than four times around the earth to get a response back to you.
What does this mean in practical terms?
It is adequate for checking email, doing research on basic web pages, checking your flight information and using some social media sites.
Because of the limited bandwidth and high latency, you will NOT be able to do any of the following over satellite internet:
Stream video, watch movies, view online television or anything like that.
Download or especially upload large files. If you have an iPhone set to sync to iCloud or a computer that backups up using Carbonite, Dropbox or similar, please turn those services off while staying with us.
Real-time chat or screenshares. Because of the high-latency, even low-bandwidth applications that require fast response, such as screenshares, webinars and voice chat will not work.
Food Storage Requirements
Bears can grab unattended food or easily break into cars that have food in them. They become bold and sometimes aggressive in attempts to get more. Too often these bears must be killed.
This is why you may be fined if you do not store food properly. Follow the rules below to reduce (but not eliminate) the risk of a bear break-in.
Drivers
Never leave any food or scented item in cars where food-storage boxes are provided.
Picnickers
Never move away from coolers and tables when food is out. Stay within arm's length of food.
Lodge Guests
Remove food from your vehicles.
Campers
Store food day and night in the metal boxes provided (avoid bringing coolers that won't fit; most boxes are 47″ long x 33″ deep x 28″ high. Store ALL food, coolers, related items, and anything with an odor (even non-food) — including unopened cans and bottles. Latch the box completely. Food not stored properly will be impounded. Where boxes are not provided, seal food to reduce odors, cover it well, and close the windows. Keep a clean campsite.
Deposit garbage immediately in bear-proof containers or store it like food. Take baby seats out of cars; the smells they absorb may attract bears.
NPS criteria can be found here: 
https://www.nps.gov/seki/planyourvisit/bears.htm
A video on storage safety can be found here:
https://www.nps.gov/media/video/view.htm?id=FBA5B932-DC29-60D7-335DB682E6DFB280

How do I participate on this group road trip hike?
Read the Hike's Details above.
Make sure that the Hike Levels accommodates your hiking experience. There are different hikes in this case.
Understand that all accommodations, transportation, and all financial needs will be the responsibility of each attending hiker.
If, and only if it suits you, then RSVP for this event via Facebook and show up the day of the hike with all necessary gear and water (we mention everything you need on the details page for this hike).
DISCLAIMER: LA Trail Hikers and its Leads/Organizers/Participants do not take responsibility for any harm,bodily injury, accidents, or damage to personal property. By attending the hike event, you confirming that you understand that all outdoor activity such as hiking, backpacking, and trekking have an associated danger, and will not hold any hike lead/organizer, participant, LA Trail Hikers, or any group associated pet responsible for any hazard to your well being. Additionally, you will not be allowed to participate with the group if you are not adequately prepared with enough water and the right gear/equipment/nutrition essential to complete the hike. You are fully responsible for yourself.