LATH 2014 Grand Canyon Road Trip
Our LATH 2014 Grand Canyon Road Trip is set for: Saturday, October 11, 2014.
We will be updating this page as we gather information for you. Page Last Updated: October 8, 2014
All LATH hikes will be conducted on Saturday, October 11.
Plan your travel between your Friday October 10 to Sunday October 12 (or October 13 if you have Monday off)
Make sure you plan & pack accordingly. Weather is scheduled to be in the low 70's during the day and a chilly mid 30's at night.
There will be 13 different hikes, each one of a different hiking level, ranging from easy to strenuous. This way everyone has a chance to hike the park.
Each attending hiker is responsible for their arranging their own travel, accommodations (Hotel or Campsite), and all expenses for the trip. We are only planning the hikes for you.
HELPFUL CONNECTIONS:
CARPOOL LIST:
Need a ride, or have a ride to give, to the Grand Canyon? Why not carpool with fellow hikers. Or, simply let us know who you are riding with. Sign up here: http://goo.gl/UgsbEX

CAMPGROUND SHARE:
Have some spaces open at your campsite? Looking to see who else is camping? Let us know here: http://bit.ly/1klV7cI

HIKES RSVP:
Here at the 13 Grand Canyon Hikes. Sign up (RSVP) will be done via this spreadsheet: http://goo.gl/jdnhAx

LEVEL 8 SIGN UP STATUS: Now filled to capacity  (updated 10-08-2014 4:46pm)
Aside from signing up for the specific hikes, let us know that you'll be attending by RSVP'ing on our Facebook Event:
RSVP: https://www.facebook.com/events/776348095709119/
HIKE DETAILS:
We've confirmed 13 hikes for the Road Trip Hike that will be repetitions of the following trails. Each hike will meet at  a specific shuttle station. Make sure you travel ahead of time to the station you are to meet at. We suggest getting there earlier than the time indicated so you are there on time.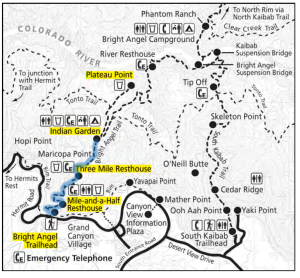 Bright Angel Trail  1.5 Mile Trail – Level 3 – (3 Miles Round Trip)
This will take use 1.5 miles down (then back up) the Grand Canyon to a water stop. Amazing views and great for those looking to get an easier hike into the Canyon.
Bright Angel Trail  3 Mile Trail – Level 5 – (6 Miles Round Trip)
This will take use 3 miles down (then back up) the Grand Canyon to a second water stop. Amazing views and great for those looking to get an easier hike into the Canyon.
Rim Trail – Level 1 or 2 – (2-3 Miles Round Trip)
This hike will take us along the Rim of the Grand Canyon with magnificent views. This is great for those looking for an easier hike.
South Kaibab to Bright Angel Trail – Level 8 – (13.5 Miles Loop)
This expert level hike will require special RSVP (noted above). It will take us down the South Kaibab trail, across the Tonto trail, and back up the Bright Angel Trail. This hike is intended for those who can handle some good elevation loss/gain.
Hike Notes
– Each hike will have one hike lead.
– 15 people max + the Hike Lead allowed per hike.
– Each hike will start a different time going to different locations.
– Each hike level will be the same hike, but will start at a different time, with hike lead.
– There will be different meeting points depending on what hike you choose.
– The first hikes of the day will start meeting at about 7am. Other hikes will start later during the day.
– We look to finish that last hikes hikes by 4:00pm – 4:30pm
– We're looking to do a full group picture at about 5pm.
– You may need to use the park shuttles for some of the hike meeting points.
– You cannot go past a certain point (which we will not go past) without a Special Use Permit, which we cannot provide/acquire. Thus, we will only go down as far as permitted by the National Park Service. (Our hikes account for this limitation)
HIKE SIGN UPS
We understand that some of the hikes listed may have been a bit popular and filled quick. However, there are many hikes still open for you to sign up for. We do have a max limit of 15 (Adult) hikers per hike. We want to make sure we abide by this so we keep the trails from over congesting. Please be considerate in adding your own name and only add it in open spaces listed. We hope you can help us out, believe us, it's not always easy.
NEW TO THE GRAND CANYON?
Please note that these hikes are simply one way of getting out and exploring the Grand Canyon during your visit. If this is your first time to the Grand Canyon, we suggest you try an easier level hike and use the rest of the time for sight-seeing. It may also benefit if you'd like to enjoy your day with a good breakfast first and then attend an easier adventure. There's plenty to see, even if you don't get to do a (bigger) hike.
PARK SHUTTLE BUSES
Shuttles are a good way to get around the park. You'll need them to get to certain meeting points for some of the hikes. Make sure you know what shuttle stop you will be meeting at:
http://www.nps.gov/grca/planyourvisit/shuttle-buses.htm
YOUR OWN ADVENTURE
Although, we'd like to take everyone on our hikes for this event, we may not be able to accommodate everyone. This said, you are more than welcome explore the vast number of other trails on your own in with a group of friends/family. Remember though, that you should be considerate in how many people you have with you. There are more trails in the area than just the ones being used for our hikes.
PREPARE FOR THE WEATHER
The weather will be vastly different at the Grand Canyon than in L.A. Make sure you dress in layers accordingly for 70 degree day weather and a chilly 35 degree weather at night.
A GRAND EXPERIENCE
Our efforts were to get LATH hikers to come out to the Grand Canyon and enjoy some time in the wonder of this amazing place. However, you decide to spend your time there, we hope your experience is a memorable one. Join us for a picture at about 5pm on Saturday at the Grand Canyon Visitor Center (close to the restrooms). It'd be great to have you be part of our group picture.
GRAND CANYON PARK INFORMATION:
Website: http://www.nps.gov/grca/index.htm
Park Entrance Fees: Click here
The drive from the general Los Angeles area to the Grand Canyon South Rim is about 8 hours (with rest stops). Same goes for the way back.
The typical drive follows the: 605 North > 210 East > 15 North > Barstow > 40 East > Williams Exit > 64 North which turns into 180 North > Grand Canyon Park Entrance.
ACCOMMODATIONS (CAMPING/HOTEL):
We want you to have the best experience, so we want you to be prepared by giving you some recommendations as to where to stay while you are there.  Here are a few suggestions:
Start booking your accommodations now so you are not left without any options campsites/hotels get booked quickly (this is why we posted this page early).
For the best experience, you should consider booking your hotel or campsite to check-in Friday October 10 to check-out Sunday October 12 ( Monday 13,  if you have the day off).
We recommend you arrive on Friday to (setup any tents and) get some good rest for the following morning.
We recommend you drive back either Sunday, or if you Monday (if you have the day off).
CAMPING OPTION:
For those of you wanting to camp close to other hikers, we are suggesting getting your campsite at Mather Campground, AZ  – (MAP)
– Campsites must be reserved on recreation.gov. Here's a quick link to the indicated campground: http://1.usa.gov/QXtNt0
– The primary camp loop will be: Pine Loop (Campsites: 266A -317)
– Should that area fill up, we suggest an overflow area to be: Oak Loop (Campsites: 201-233)
– Make sure you specify the correct date range so you have the right number of days booked.
– The campsites are typically $18.00 per night.
– The noted campsites allow a max of 6 people and a max of 2 vehicles.
– NOTE: Make sure you check the specific details for your campsite, by clicking on the icon in the map, as it might be slightly different. There is more information on each.
– Have open spots at your campsite?  Or, are looking to share a campsite with someone who already has one? You can use the following sheet to connect with each other:
– LATH Campground Sharing: http://bit.ly/1klV7cI

HOTEL OPTION:
If you are not the camping type and prefer to stay in a hotel, we have recommendations for hotels in the following areas:
 – Inside the Park Area
* Bright Angel Lodge, El Tovar Hotel, Maswik Lodge, Kachina Lodge, Yavapai Lodge, and more. (http://www.grandcanyonlodges.com)
* http://www.nps.gov/grca/planyourvisit/lodging.htm
  * Closest to meeting point, but a bit expensive.
 –  Grand Canyon Village, AZ  (MAP)
* Best Western Premier, Red Feather, Grand Canyon Hotel, Canyon Plaza Resort, and more.
* Slightly north of the Grand Canyon National Park Airport
* Closest to Park, but likely more expensive

–  Williams, AZ (MAP)
* Econo Lodge, Motel 6, Grand Canyon Hotel, Rodeway Inn, The Lodge, El Rancho Motel, and more.
* Best variety of hotel/motels
* Easier in price
* About 1 hour drive to Park Entrance. Not a bad option since you'll primarily be sleeping here.
* This is our best suggestion if you want something reasonable.
HOW DO I PARTICIPATE WITH THE GROUP ON THIS ROAD TRIP HIKE?
1. Read the Hike's Details above (To be posted later).
2. Make sure that the Hike Levels accommodates your hiking experience. There are 3 to 4 hikes in this case.
3. Understand that all accommodations and transportation will be the responsibility of each attending hiker.
4. If, and only if it suits you, then RSVP for this event via Facebook and show up the day of the hike with all necessary gear and water (we mention everything you need on the details page for this hike).
DISCLAIMER: LA Trail Hikers and its Leads/Organizers/Participants do not take responsibility for any harm,bodily injury, accidents, or damage to personal property. By clicking "Attending," or attending the hike, you confirming that you understand that all outdoor activity such as hiking, backpacking, and trekking have an associated danger, and will not hold any hike lead/organizer, participant, LA Trail Hikers, or any group associated pet responsible for any hazard to your well being. Additionally, you will not be allowed to participate with the group if you are not adequately prepared with enough water and the right gear/equipment/nutrition essential to complete the hike. You are fully responsible for yourself.
MAP: