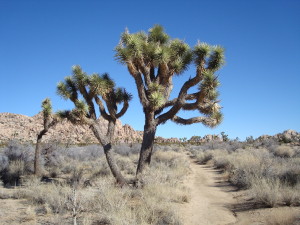 REAL TRAIL NAME: Rattle Snake Canyon at Joshua Tree National Park
** HIGH LEVEL HIKE **
Please note that this is a strenuous leveled hike and must be under estimated by moderate hikers.
HIKE DATE: Saturday, April 26, 2014
MEETING TIME: 6:00 am
(We'll wait at most 15 mins and leave at the meeting point at 6:15am)
HIKE LEAD: Jorge Jimenez
HIKE LEVEL: Level 9 – (Highly Strenuous – Suitable for experienced LATH hikers)
WHAT IS A HIKING LEVEL?:
Find out more about hiking levels here:
https://latrailhikers.com/about/hike-levels/
HIKE RSVP: https://www.facebook.com/latrailhikers/events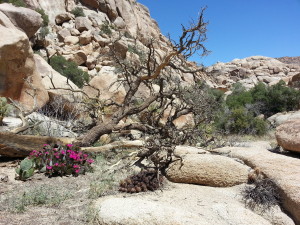 HIKE DURATION: 6 – 7 Hours (Approx.)
HIKE DISTANCE: 10-11 Miles (Approx.)
MEETING LOCATION:
Vons Market (Parking Lot)
57590 29 Palms Hys.
Yucca Valley, CA 92284
Please note that it may take up 2 hours 10 minutes to meeting point (Vons Market) in Yucca Valley from the general Los Angeles area. Plan your travel time accordingly.
DRIVE TO TRAILHEAD: 25 minutes (approx) from Meeting Point to Trailhead. Please note we'll be caravan together.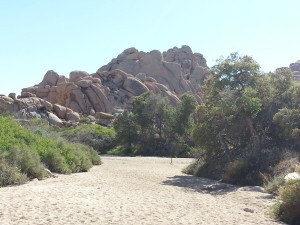 TRAILHEAD LOCATION: Joshua Tree National Park lies 140 miles east of Los Angeles. You can approach it from Interstate 10 and Hwy 62 (Twentynine Palms Highway).
Willow Hole Trailhead
Twentynine Palms, CA 92277
TRAILHEAD COORD: N34 02.469 W116 11. 149
VEHICLE ENTRANCE FEE :There is $15 fee to enter the park per car.  If you enter the park before 8:00 am there is no Ranger to collect the fee so you can pay before leaving the park.  Note, there is no Ranger to collect fees after 5:00 pm.
WATER REQUIRED. WATER CHECK WILL BE PERFORMED. If you do not take enough water or are not appropriately equipped for this hike, you will be turned away from doing this hike with us even if you show up. Please note, that we have high expectations regarding water, food, and hiking gear/footwear for Level 9 hikers.
REQUIRED: 4 to 5 liters of water. Lunch and snacks. Sunscreen. Hat or Cap. Light Colored Clothing. Shoes with good gripped soles.
HIGHLY RECOMMENDED: Hiking Boots, Long pants,  Long sleeve shirt, Gloves. Hiking Pole. Hydration Pack.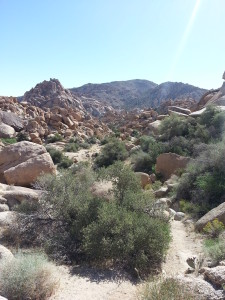 TRAIL WALKTHROUGH: Make no mistake, this is no easy stroll. At times you'll feel like an ant trying to negotiate a fiercely jumbled landscape. You must be adept at both boulder hopping and scrambling across tilted rock surfaces. Much of the travel involves meticulously lowering yourself downward over angular boulders — not recommended for the faint of heart. 
– From the Wonderland backcountry board, follow the Boy Scout trail (a dirt road) 1.4 miles north across sandy flats dotted with Joshua trees to the Willow Hole Trail, intersecting on the right. Follow the Willow Hole Trail northeast to where it enters a dry wash, then continue downhill in the wash. The wash soon becomes a canyon bottom flanked by stacks of boulders. At 3.5 miles you arrive at Willow Hole — some large pools flanked by a screen of willows.
– Following a beaten-down path, you then work your way through the willows on the right, over a low ridge, and across a gap between two rock piles. Follow the narrow canyon bottom below, which will carry water draining from the pools at Willow Hole once the winter rains come. The remaining travel is entirely downhill, but progress is soon impeded as you negotiate a canyon section clogged with boulders.
– At 0.7 mile beyond Willow Hole, a north-flowing tributary joins on the right. Stay in the main canyon as it veers north and descends sharply for 0.3 mile to join Rattlesnake Canyon. Exercise care while descending this hazardous stretch.
– Once you reach Rattlesnake Canyon, only a bit more than a mile of hiking remains. The going is easy for a while as you follow the sandy wash downhill (northeast). Some cottonwood trees brighten the otherwise desolate scene of sand and soaring stone walls. As the canyon bends left for a final descent to the flats of Indian Cove below, you face more episodes of serious scrambling. Keeping to the left-side canyon wall, you work your way around a slot like canyon worn in the rock. Down in the bottom of the slot are potholes worn by the abrasive action of flash flooding. Only a bit more scrambling and a short walk down the canyon's sandy wash takes you to the end of the hike — the picnic area at Indian Cove.
DOG FRIENDLY?: No. Dogs are not allowed (especially on this Level Hike)
HOW DO I PARTICIPATE WITH THE GROUP ON THIS HIKE?
1. Read the Hike's Details we link at the very top of this page.
2. Make sure that the Hike Level accommodates your hiking experience.
3. If, and only if it suits you, then RSVP for this event and show up the day of the hike with all necessary gear and water (we mention everything you need on the details page for this hike).
MY FRIEND SAID I CAN DO THIS HIKE, I SHOULD BE ABLE TO DO IT, RIGHT?
We take your safety quite seriously, and would not like for you to attend a hike you're not ready for. This hike is an advanced level 9 hike and is tailored for experienced hikers within the group.  You know your body and hiking experience better than your friends. Whether you are a first-timer or an experienced hiker, please read our hike details page as the hike may not suite your experience level. We have a better experience if every hike has hikers of the intended level.
DISCLAIMER: LA Trail Hikers and its Leads/Organizers/Participants do not take responsibility for any harm,bodily injury, accidents, or damage to personal property. By clicking "Attending," or attending the hike, you confirming that you understand that all outdoor activity such as hiking, backpacking, and trekking have an associated danger, and will not hold any hike lead/organizer, participant, LA Trail Hikers, or any group associated pet responsible for any hazard to your well being. Additionally, you will not be allowed to participate with the group if you are not adequately prepared with enough water and the right gear/equipment/nutrition essential to complete the hike. You are fully responsible for yourself.