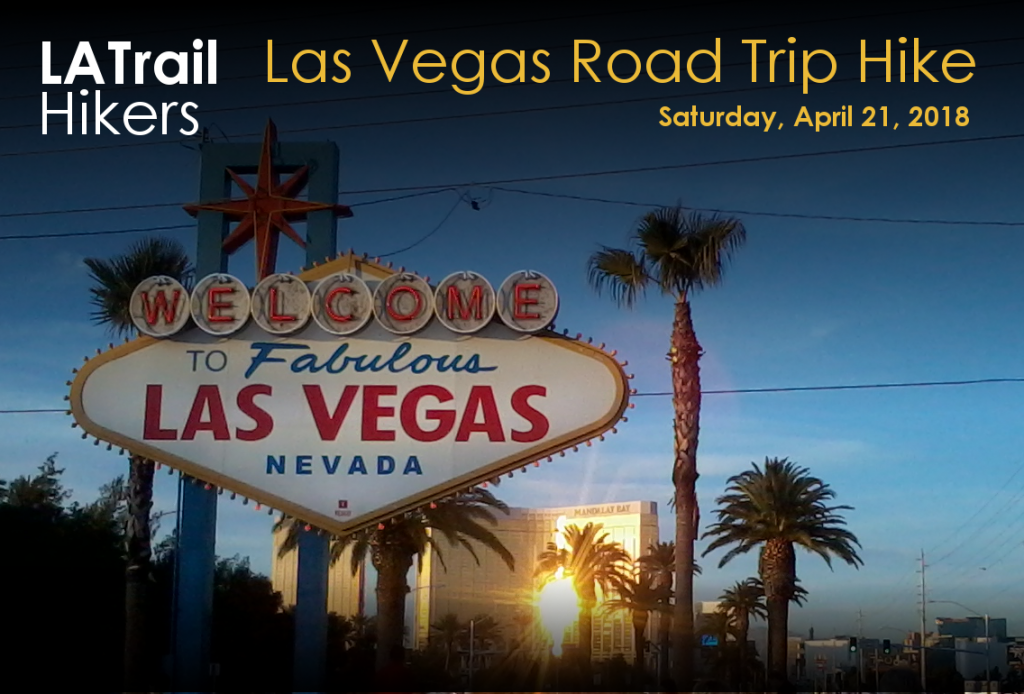 ROAD TRIP HIKE NAME: Valley of Fire State Park, Nevada (about 50 miles/1 hour north from the Las Vegas Strip/Meeting Point)
HIKE DATE: Saturday, April 21, 2018
EVENT WILL BE FROM: 8:00am – 3:30 pm (approx)
HIKE LEAD: All Attending Hike Leads
HIKE LEVELS: Leve 1 , Level 3, and/or Level 5
(There will be 2 different hikes, one each easy and one moderate hike level respectively )

WHAT IS A HIKING LEVEL?:
Find out more about hiking levels here:
https://latrailhikers.com/about/hike-levels/
ROAD TRIP HIKE RSVP:
https://www.facebook.com/events/548527998858979/   (Link updated: 3/26/18)
If you have any questions, or are looking for someone to carpool/roomshare with for this event, please feel free to ask on the Facebook event linked above.
GROUP WELCOME: We will welcome and coordinate all hikers to go caravan/convoy from this location to the Red Rock Canyon park area. We will not leave cars here so please arrange any carpools prior to going to meeting point.
MORNING MEETING POINT (ALL HIKERS)
MEETING TIME:  8:00 am – 8:30 am
(Please be there on time so we can all leave accordingly, and so you don't miss the group)
MEETING LOCATION:
McDonald's Parking Lot
1195 E Sahara Ave.
Las Vegas, NV 89104
DIRECT LINK: https://goo.gl/maps/nWUw48JPMdx
DRIVE TO THE PARK: 8:40 am (approx 55 min drive)
CARAVAN NOTE: From this location, we will caravan north on the I-15 to the Valley of Fire State Park (Overton, NV 89040) entrance. Carpools highly advised prior to arriving to the meeting point.
WHY DON'T WE MEET AT THE PARK?
– First, we need to make sure that all attending hikers have adequate water and snacks. Since there is a Gas Convenience Store (Chevron/Terrible's) next to the meeting point, this should help anyone who forgets any items.
– Secondly, cell phone reception weak or absent in a many parts of the park. So we want to make sure everyone is together prior to arriving to the park.
PARK FEE: $10 Park Fee Per Vehicle (bring cash for this)
More information about fees can be found here (look at the bottom for Valley of Fire):
http://parks.nv.gov/parks/valley-of-fire#fees
HIKE TRAILS & LEVELS:
(First Hike) Mouse's Tank (Petroglyph Canyon) – Level 1
(Second Hike) White Domes – Level 3
Please note that the second hike will follow right after the end of the first hike.
HIKE LENGTH & DURATION:
(First Hike) Just under a 1 mile round trip approximately 35min
(Second Hike) Approx. 1.3 Miles round trip approximately 1 hour + exploration time
HIKE WALKTHROUGH: For each section, there will be plenty of time for hikers to look around and enjoy the hiking areas.
As noted on stillexploring.com:
(First Hike) Mouse's Tank – The trail travels through a long canyon wash and is easy to follow. The trail is, for the most part, very loose sand which makes for difficult walking. Along the way look for petroglyphs on the blackened canyon side walls – some fairly high up. The trail ends at the tank. You can climb a slot up the left side of the tank for views of the surrounding hills and valleys. However, beyond the tank the terrain drops sharply into the valley. The tank itself is difficult to see as it is partially buried in the surrounding rocks.
As noted on examiner.com:
(Second Hike) White Domes – Initially you will be trudging through a lot of loose sand, but just a tenth of a mile into the hike the trail descends with rock stair steps. Another tenth of a mile and you pass the movie set– this was where The Professional was shot in 1965, there is an informational plaque if you are interested in learning more. All that is left of the antique movie set is a single wall, but it is still an interesting find, and lends to learning just how many filmmakers are drawn to the picturesque landscape in Valley of Fire.  Past the ruin the trail follows a wash and leads into the shady slot canyon, known as the Narrows. The wonders of a slot canyon cannot be accurately described; it is something that one must personally experience. The awe of nature's power to cut into this robust rock and smooth out the twists and bends will keep you lingering amidst the narrow, cool canyon.
DURING INDICATED HIKES: Hikers will be allowed a specified amount of time for exploration during segments of each hike. This means you'll have some time to do some exploration of the area on your own before we move on together as a group.
REQUIRED: At least 2 to 3 liters of water and a good sized lunch/snack.
RECOMMENDED: Comfortable hiking shoes/boots, wear light clothing, hiking socks,a hat, SUN SCREEN, backpack or camelpak (hydration pack), small edible snacks, and any additional water.
SPECIAL NOTE: Please note that each person is responsible for their own transportation and accommodation. The LA Trail Hikers will not provide anything other than the meetup information for the hike.
ACCOMMODATION RECOMMENDATIONS: We recommend staying closer to the Las Vegas Strip. That way you're closer to the meeting point and can easily caravan with the group as needed.
DOG FRIENDLY?: "Pets are welcome, but they must be kept on a leash of not more than six feet in length. They are not allowed in the visitor center." – Valley of Fire State Park website
TRIP UPDATE:
Hello everyone! We're quite excited to have you join us on Saturday for this group hike. And, to have the best time out there, we want to inform you of the following items to make our trip much better.
WEATHER: (We'll be updating this area closer to Saturday, April 21 date with expected weather for the Las Vegas area)
FOR YOUR TRAVEL TO LAS VEGAS:
— Read the hike's detail page for this event.
— Make sure your car's tires are set with the suggested tire pressure.
— Check breaks. Check oil, A/C, and Air filters.
— Keep water handy to drink while you're on the road.
— Keep a few snacks handy as well.
— You may encounter areas where radio signal is weak, so you may want to pack up some tunes (CD's, MP3 players, etc.) to keep you going.
— Carpooling to LV is highly recommended.
— From the general L.A. area, it should be about a 4 hour drive. Depending on what day and time you leave.
POINTS OF INTEREST DURING TRAVEL FROM LA:
If you are leaving early from Los Angeles, we have a few recommended stops and detours for you to enjoy on your travel to Las Vegas (most are along the I-15).
PRIOR TO THE MEETING POINT:
— Pack all your day's hiking water and snacks.
— Pack all your hiking gear and essentials.
— Hat, (Hydration) backpack, sunscreen, light hiking clothes, extra water, comfortable shoes for hiking, and after hike snacks.
— Leave unnecessary items back at your accommodations so you have plenty of space in your vehicle.
— Parking at certain stops in the park may be limited in spaces, so please consider carpooling (consolidating car rides) on the day of the hike. Ideally prior to going to the meeting point.
— We'll try to consolidate even more at the meeting point prior to the caravan to the park.
— HAVE A GOOD/LITE BREAKFAST before heading to the meeting point
— MAKE SURE YOU PACK A GOOD LUNCH  FOR THE TRIP.
— We'll take about 1 hour to get to the park after we leave the meeting point.
— We suggest you getting a good night's rest on Friday night.
— We need you to be 100% on the morning/day of the hike.
— Alcohol in (or potentially in) your system is not good for our group atmosphere. Being hungover and dehydrated is not a suitable state to be in for this event. So if you do find yourself in this situation, we please urge you to reconsider attending the hike/event so you don't make yourself an issue for the group.
— You'll have plenty of time to enjoy Las Vegas, or the rest of the park, after the intended event.
WHILE AT THE PARK:
— Make sure you have enough for your (cash) entrance fee.
— Please be considerate to other visitors and hikers.
— Don't leave any trash.
— No alcohol during the event.
— Please park only in designated areas.
— Have a fun time hiking.
HOW DO I PARTICIPATE WITH THE GROUP ON THIS ROAD TRIP HIKE?
1. Read the Hike's Details above.
2. Make sure that the Hike Levels accommodates your hiking experience. There are two hikes in this case.
3. Understand that all accommodations and transportation will be the responsibility of each attending hiker.
4. If, and only if it suits you, then RSVP for this event via Facebook and show up the day of the hike with all necessary gear and water (we mention everything you need on the details page for this hike).
DISCLAIMER: LA Trail Hikers and its Leads/Organizers/Participants do not take responsibility for any harm,bodily injury, accidents, or damage to personal property. By clicking "Attending," or attending the hike, you confirming that you understand that all outdoor activity such as hiking, backpacking, and trekking have an associated danger, and will not hold any hike lead/organizer, participant, LA Trail Hikers, or any group associated pet responsible for any hazard to your well being. Additionally, you will not be allowed to participate with the group if you are not adequately prepared with enough water and the right gear/equipment/nutrition essential to complete the hike. You are fully responsible for yourself.