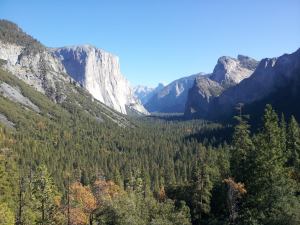 UPDATE : All 5 spots are now filled. No more openings at this time.
In November, the LA Trail Hikers will be continue a great volunteer partnership with NatureBridge, a non-profit organization, by helping them raise funds for NatureBridge programs and help kids participate in environmental science programs in Yosemite National Park through school scholarships.
We are looking for five (5) LA Trail Hikers who will represent our group and participate in this volunteering event at Yosemite during:
Monday, November 10, 2014 – Wednesday, November 12, 2014
Mon, November 10 – Arrival, Orientation, Team Building, Volunteer Training (Group Dinner)
Tue, November 11 – Volunteering Day, Evening Group Activities (Breakfast, a packed Lunch, Group Dinner)
Wed, November 12 – Yosemite Park Day Exploration/Hike, Drive Home (Breakfast)
(Accomodations will be provided on Monday & Tuesday night.)
Volunteer Activity Day (Nov 11):
As a volunteer, you will be collecting donations park visitors while standing in front of the park gates. All donations collected will go to NatureBridge to support their outdoor programs for students.
We ask that you only RSVP if:
– You are 100% availabe for all 3 days (meaning, having any time off is already approved).
– You are be able to stand/walk for about 6-8 hours during the volunteer event (with small rest breaks of course).
– Must be 18+ years of age.
Previous LATH Volunteers:
If you have been on a NatureBridge volunteering event before, we're sure you know how amazing and rewarding this experience can be. Especially a Yosemite first-time visitor. And for this reason, we are looking to provide this experience to new participants first. So we ask that you give others an opportunity to sign up first. If the 5 spots are not filled by Oct 5, 2014, we'll then open it to returning volunteers.
If you meet all conditions, RSVP Here:  LATH Yosemite Volunteer RSVP (Eventbrite)
Specific information will be provided to participating attendees prior to the event/trip. Carpooling will be setup prior to event.
We look forward to having you join us on this event!