The LA Trail Hikers are happy to announce that their 2015 Utah Road Trip Hike will be held on: Saturday, October 03, 2015!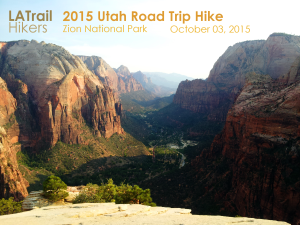 *** UPCOMING Utah Road Trip Information and Q&A Sessions ***
Here is a list of the upcoming gatherings where we look to provide you and get feedback for the upcoming Utah Road Trip. We're hoping these gatherings will provide good feedback to bring everything together. They should only be about 1/2 to 1 hour. All the Sessions will be asking questions and providing similar information, so you only need to attend one if you can. If you can't make these, don't worry, we'll be posting the information we gather online for you. But if you can attend please do so we get some good ideas and answer questions to make this a great trip for everyone! Here's what we have so far:
* Sun 9/20: 8:00pm – Starbucks (Alhambra) 1131 S Fremont Ave., Alhambra, CA 91803
* Mon 9/21: 7:00pm – Starbucks (Whittier) 14940 Whittier Blvd., Whittier, CA 90603
* Mon 9/21: 7:30pm 8:00pm – Starbucks (DTLA/LA Live) 800 W Olympic Blvd #102 Los Angeles, CA 90015
* Mon 9/21: 8:00pm – Villa Catrina (Arcadia) 251 N Santa Anita Ave, Arcadia, CA 91006
* Tue 9/22: 8:00pm – Starbucks at California Plaza (DTLA) 350 S Grand Ave B-5, Los Angeles, CA 90071
* Wed 9/23 – 6:30pm – Before Weds Hike at Meeting Point (Griffith Park) Vermont Side – https://www.facebook.com/events/1659444274297393/
* Thur 9/24 – 7:30pm – Holy Grounds Coffee & Tea (El Sereno/East LA) 5371 Alhambra Ave. Los Angeles, CA 90032
Friday – Gather all information from hike leads and start producing the event details to post during the weekend.
– We will be having a few LATH meetings to answer questions and discuss the logistics of the upcoming Utah Road trip for those who will be attending. Various September Meeting dates to follow.
At this point we suggest using this date to plan your travel accommodations near Zion National Park's south entrance. Hotel rooms and campgrounds book fast, so make sure you get your accommodations with good time. The event will be held on Saturday, but you should plan for arrival and departure. Full details for the trip will be announced at a later date.