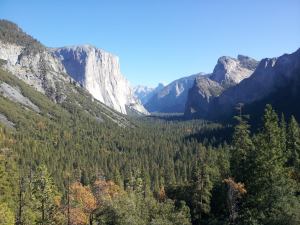 LA TRAIL HIKERS VOLUNTEERING EVENT
In August 2015, the LA Trail Hikers will be return to Yosemite National Park for volunteering partnership with NatureBridge, a non-profit organization, to help raise funds for NatureBridge programs, and help kids participate in environmental science programs, within Yosemite, through school scholarships.
We are looking for 9 LA Trail Hikers who will represent our group and participate in this volunteering event at Yosemite on:  Monday, August 24, 2015 – Wednesday, August 26, 2015
VOLUNTEER STATUS: All 9 Spots Taken (as of 07-10-2015, 5:23 pm)
At this point, you may feel free to join the waiting list.
SIGN UP DATES
1) New LATH+NatureBridge Volunteers (Sat July 4 – Tue July 28)
We are looking to provide this experience to new participants first. If you have never participated as volunteer for this event, you will have the first opportunity to sign up starting Sat July 4 at 8am until Tue, July 28 at 11pm.
2) Previous LATH+NatureBridge Volunteers (Mon July 13 –  Tue July 28)
If you have participated on a NatureBridge volunteering event before, we're sure you know how amazing and rewarding this experience can be. Especially for a Yosemite first-time visitor.  So we ask that you give others an opportunity to sign up first. If the 9 spots are not filled by July 28, 2015, we'll then open it to returning volunteers from Mon July 13 until Tue July 28 at 11pm.
We ask that you only RSVP if:
– You are 100% availabe for all 3 days (meaning, having any time off is already approved).
– You are be able to stand/walk for about 6-8 hours during the volunteer event (with small rest breaks of course).
– Must be 18+ years of age.
IF YOU RESERVE A SPOT
Once you let us know you are able to attend by RSVP'ing your spot using EventBright, you will be provided a specific NatureBridge online form to fill out to complete your registration. You cannot RSVP for anyone but yourself. There is no guest option, all attendees will be be volunteers on the day of the activity.

VOLUNTEER EVENT INTENERARY
Mon, August 24:
Arrival/Lodging Assigned
Orientation & Team Building
Dinner provided by NatureBridge
Volunteer Training
Tue, August 25 (Volunteering Day):
Complimentary Breakfast
Depart for & Arrive at Gates (Carpools)
Volunteering Day Donation Collections
Box Lunch Provided by NatureBridge
Depart Gates & Arrive at Accommodations
Dinner provided by NatureBridge
Celebration & Awards
Wed, August 26:
Complimentary breakfast at Crane Flat
LATH Volunteer Group Yosemite Park Day Exploration/Hike
Drive Home
VOLUNTEER DAY ACTIVITY (Aug 25)
As a volunteer, you will be collecting donations park visitors while standing in front of the park gates. All donations collected will go to NatureBridge to support their outdoor programs for students.
ACCOMMODATIONS
Accomodations will be provided on Monday & Tuesday night. NatureBridge will provide lodging and meals at its rustic Crane Flat campus. Volunteers should bring camping items, including sleeping bags. A complete packing list will be provided.
TRAVEL
Participants will be contacted to setup carpooling options prior to event. Participants will drive their own vechicles to the event and back.