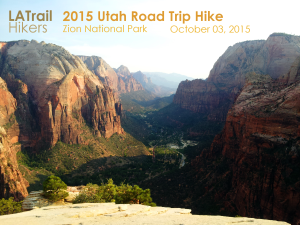 Hi LA Trail Hikers! The time you've all been waiting for has arrived! It's time for a Utah Road Trip! As some of you may already know, we will not be leading group hikes there as we are not allowed to venture in big groups (as noted by the National Park Service), so instead, we'll be providing you as much information for you to take on hikes on your own at your desired pace & schedule. We want to make sure you well informed about what to expect on your upcoming trip on Saturday, October 03, 2015.
Zion National Park
If this is your first visit, we hope this will be a very memorable experience! So here are a few things you'll want to note prior to heading out.  We suggest arriving early to the park to find good parking and get a good start to your day. Remember, Zion National Park uses Mountain Daylight Time (MDT), so they will be one hour ahead. Join us at the end of the day at 5pm for a group picture (info below)
Preparing your car for the Road Trip
— Read the hike's detail page for this event.
— Make sure your car's tires are set with the suggested tire pressure.
— Check breaks. Check oil, A/C, and Air filters.
— Keep water handy to drink while you're on the road.
— Keep a few snacks handy as well.
— You may encounter areas where radio signal is weak, so you may want to pack up some tunes (CD's, MP3 players, etc.) to keep you going.
— Carpooling to is highly recommended.
Getting to the Park
Travel to time to Zion National Park (Zion Canyon Visitor Center area) may vary depending on your departure point. However, in general travel time from the general Los Angeles area to the park will take anywhere from 6 to 7 hours. Keep in mind that if you need to take longer or additional rest stops, this may increase the total travel time.
Travel Times:
– From L.A. to Zion Canyon Visitor Center, NV (or South or Watchman Campground): 6 to 7 hours
– From L.A. to Las Vegas, NV: 3.5 to 4 hours  (then to Zion National park: 2.5 to 3 hours)
– From L.A. to Mesquite, NV: 5 to 5.5 hours  (then to Zion National park: 1.5 to 2 hours)
– From L.A. to St. George, NV: 5.5 to 6 hours  (then to Zion National park: 1 to 1.5 hours)
– From L.A. to Hurricane, NV: 6 to 6.5 hours  (then to Zion National park: 35mins to 40mins)
– From L.A. to Springdale, NV: 6 to 6.5 hours  (then to Zion National park: 6 to 10 mins)
– From L.A. (thru Zion National Park) to Mount Carmel, NV: 6.5 to 7.5 hours  (then back to Zion National park: 45mins to 1 hour)
Roads to Take: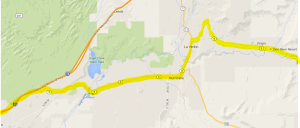 From the Los Angeles area you will mostly be traveling on the 15 fwy North. You will pass Las Vegas, Mesquite, St. George, and Washington. Just before leaving Washington, UT there will be signs noting that if you want to continue to Zion you will need to get on the 9 hwy (Utah State Route 9). Along the 9, you'll pass the city of Hurricane and La Verkin. Make sure you pay attention because there is one fork after Hurricane and one after La Verkin. However, you will need to stay on the 9 the rest of the way. You'll pass Virgin, Rockville, and Springdale. Continue on the 9 until you get to the park entrance. The Zion Canyon Visitor Center will be on the right hand side after entering the park.
Caravan From Hurricane to Zion
If you are staying outside/west of the park and would like to follow a caravan into the park on Saturday morning, a group of hikers will be meeting at 7:00am (MDT) and will depart for the park at 7:10am:
7-Eleven Parking Lot
1180 W State St
Hurricane, UT 84737
Entrance Fee
$30 per Private Vehicle. This pass will be valid for 7 days. Cash or Credit Card accepted at Park Entrances. When entering the park, make sure you also get your park map from the Park Ranger. Interagency Annual Passes are also valid for entrance.
More info here: http://www.nps.gov/zion/planyourvisit/feesandreservations.htm
So, where should I go once inside?
If you're not sure where to start, we suggest you go to the Zion Canyon Visitor Center.  This is the place where you will park and leave your car once you enter the park.
LATH Hike Leads will be outside the Zion Canyon Visitor Center area from 8:00 AM to 8:45am (MDT) to help guide you in the right direction and provide you information about hikes and the park. Come by if you have any questions about hikes & the park, learn about where to get started, where shuttles depart, say hi, or just to let us know you'll be in the park that day. Some people may want to use this location as a place for form small groups that hike at the same pace or to do specific easy or intense hikes. From there you'll be off on your own adventure. Note: Parking at the visitor center is usually full by 10am, so please get there early.
It is not required to stop by the Visitor Center area if you already know what your plans will be for the day. Meaning, you can simply start your hike if you want to get started earlier. But it will be good to let the hike leads know that you'll be there for the day.
In this details page. we'll taking from information from the Zion 2015 Fall Map and Guide.
What's the weather going to be like?
We're expecting a high of 78F during the day and a low of 48F at night on Saturday.
Prepare for your day trip
Before you get to the park, you want to make sure you pack for your full day of adventure. There aren't restaurants inside the park (with exception of the two at the Zion Lodge). So, make sure you pack a good lunch and some snacks. Make sure to pack plenty of water (2-3 liters at minimum) and an  electrolyte supplement.  Pack all your hiking essentials, such as hiking poles, sunscreen, a hat, hiking pant/shorts, hiking shoes/boots with grip, water/river sandals (for those going into the Virgin River, or visiting The Narrows), extra pair of socks, a flashlight, a small first-aid/band-aid kit, and a (hydration) pack to everything into. You may also want to put any valuables in a small zip-lock bag to prevent them from getting wet if you're going into any water areas. You may also want to read up on the hikes (below) to see if there is anything else you may want to take to ensure an enjoyable hike.
— Pack all your day's hiking water and snacks.
— Pack all your hiking gear and essentials.
— Hat, (Hydration) backpack, sunscreen, light hiking clothes, extra water, comfortable shoes for hiking, and after hike snacks.
— Leave unnecessary items back at your accommodations so you have plenty of space in your vehicle.
— Parking at certain stops in the park may be limited in spaces, so please consider carpooling (consolidating car rides) on the day of the hike. Ideally prior to going to the meeting point.
— We'll try to consolidate even more at the meeting point prior to the caravan to the park.
— We'll take about 1 hour to get to the park after we leave the meeting point.
— We suggest you getting a good night's rest on Friday night.
— We need you to be 100% on the morning/day of the hike.
— Alcohol in (or potentially in) your system is not good for our group atmosphere. Being hungover and dehydrated is not a suitable state to be in for this event. So if you do find yourself in this situation, we please urge you to reconsider attending the hike/event so you don't make yourself an issue for the group.
— You'll have plenty of time to enjoy Las Vegas, or the rest of the park, after the intended event.
If you decide to go into the river, you may want to bring an extra change of clothes and a towel along with river/water sandals.
Travel in small groups
When heading out, make sure you keep your groups to a size of a max of 12 people. This is a Park requirement for wilderness areas. (Group size limit for Mystery, Spry, Behunin, and Echo Canyons is six people). Although you may want to group up with other visitors, make sure you respect this number and keep your groups of 12 consistent while in the park.
— Please be considerate to other visitors and hikers.
— Don't leave any trash.
— No alcohol allowed in the park.
— Have a fun time hiking.
You will be riding Park Shuttles
To get around the park, you'll be riding the free park shuttles that take you to different starting points. Once you know where you'll be hiking, you'll need take a shuttle to take you to the closest drop off point. Keep in mind that shuttles DO NOT run all night. So you should make arrangements to get to get back before the last shuttle leaves the northern most shuttle stop (Temple of Sinawava) which leaves at 7:30pm. If you do not catch this last bus, you'll need to walk all the way back to the visitor's center. So make sure you try to catch a shuttle prior to this to go back. Keep in mind that it does get dark in the park, so you may want to exit the park valley before it gets too dark. These are also the stops were you note when going to your specific hike.
– Shuttle Stops (image on right) taken from the Zion Map & Guide.
– Full shuttle Fall time schedule can be seen here.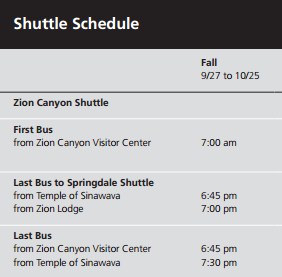 Hikes in the Park
Zion hosts a variety of hikes with different distance and difficulty levels. You'll want to read up on the different hikes so you know the intensity, distance, hike recommendations, and associated shuttle stop for it.  Here are the hikes you may be interested. These are taken from the Zion Map & Guide.
Easier Hikes: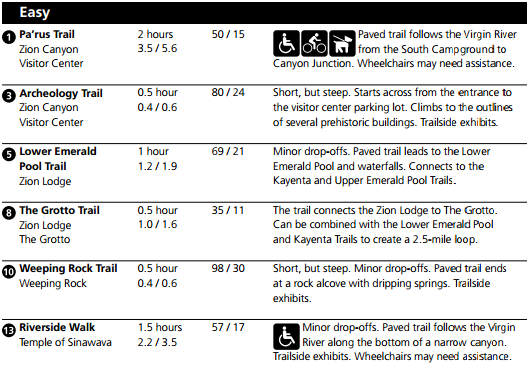 "Stay on established trails and watch your footing, especially at overlooks and near drop-offs. Avoid cliff edges. Watch children closely. People uncertain about heights should stop if they become uncomfortable. Never throw or roll rocks because there may be hikers below." – National Park Service
Join us for a group picture!
At the end of the day, we will be getting together at the Canyon Junction shuttle station at 5pm (MDT) for a group picture with a great background. If you available, please come by so we can catch the last bit of sunlight for a gorgeous background picture.
Some areas require a Permit
Permits are required for all overnight trips, including climbing bivouacs, all through-hikes of The Narrows and its tributaries, all canyons requiring the use of descending gear or ropes, and all trips into The Subway and Left Fork.
All permits (including those with reservations and those awarded though the lottery) must be obtained in person the day before or the day of the trip at the Zion Canyon or Kolob Canyon Visitor Centers.
More information on Permits can be found here:
http://www.nps.gov/zion/planyourvisit/wildernesspermitinfo.htm
Information about specific Wilderness trails can be found here:
http://www.nps.gov/zion/planyourvisit/traildescriptions.htm
Park Bridge work closures
There will be some work done prior and after the intended Zion visit. So if you intend on coming a few days before (prior to Friday) or staying a few days after (after Sunday), please make sure you may encounter some closures as noted here:
http://www.nps.gov/zion/learn/news/wrclosure.htm
Campground Information
If you'll be staying at South or Watchman campgrounds, the following page may provide some infomation:
http://www.nps.gov/zion/planyourvisit/campgrounds-in-zion.htm
Keep in mind that there are no showers available within Zion National Park. Pay showers are available in Springdale and east of the park. The availability of these services varies throughout the year.