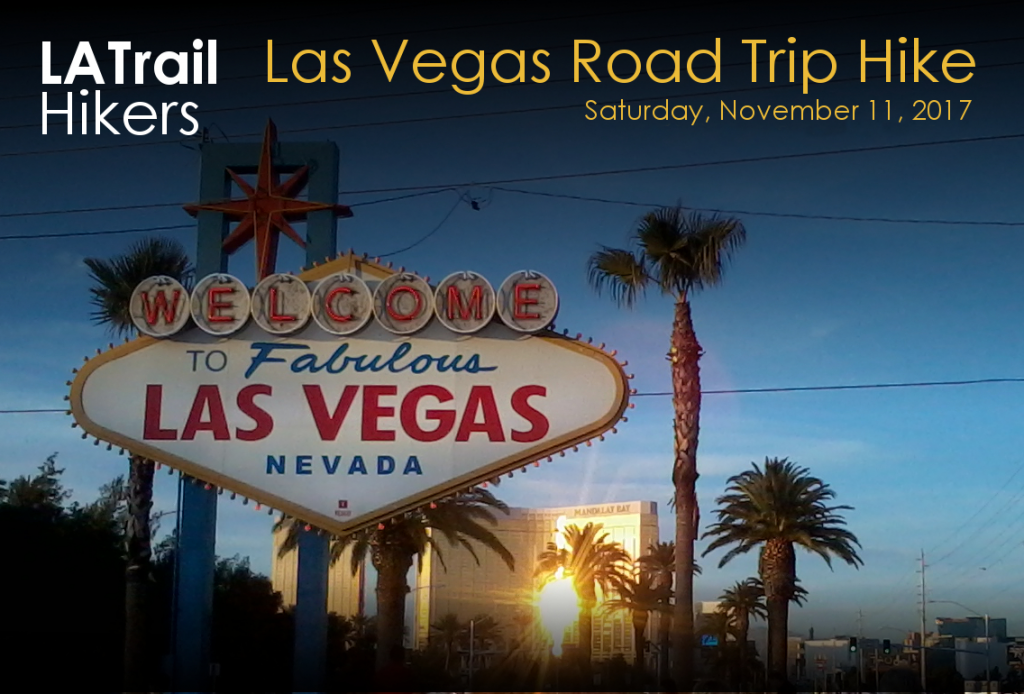 :
FULL DETAILS NOW AVAILABLE:
Please check the following page for full event details.
https://latrailhikers.com/hikes/road-trip-hikes/red-rock-las-vegas/
SAVE THE DATE
It's time to start booking your Las Vegas accommodations because the LA Trail Hikers are going on their 2017 LATH Las Vegas Road Trip Hike on: Saturday, November 11, 2017
WHERE ARE WE HIKING?
The designated place we will visit for our hike has not yet been decided, but that shouldn't stop you from making your travel plans. Once we decide, we'll let you all know in a different post.
WILL LATH PROVIDE ANYTHING?
All participants will be in charge of themselves and their own expenses, which includes things such as booking their own accommodations and setting up their own travel plans (we highly recommend carpooling and room sharing). LATH will not provide anything but a hike details page with a meeting place that will be close to the Las Vegas strip area.
WHERE SHOULD I BOOK MY ROOM?
Most hikers will book rooms around the main Las Vegas area, as we can always drive to the meeting point. We suggest you get your room closer to the area you'll be after the hike, especially if you want to hang out on the Las Vegas strip (Las Vegas Blvd) area or Downtown Vegas (Fremont). If you are going to Las Vegas for the first time, or simply like to go all out, it's very likely you'll want to stay along the strip. If not (and you'd like to save some money), you'll likely want to stay at a hotels that are South or North (and off) the strip for a better rate. Whatever service you choose to book your room (e.g. expedia.com, hotels.com, vegas.com, cheaptickets.com), consider using retailmenot.com for discounts/promo codes to apply to your booking.
HOW MANY DAYS WILL THIS EVENT BE?
The event will be solely on Saturday (morning to afternoon). However, you choose when you arrive to the Las Vegas and when to leave. Most people will get to Vegas on Friday evening and leave on Sunday morning/afternoon.
WHAT WILL THE HIKE(S) BE LIKE?
We'll be working on setting up a few hikes that will vary from levels. However, we'll try to give more more specifics once everything is detailed out on our end.
WHAT WILL I EXPECT FROM THIS ROAD TRIP?
Once you have requested time off from work (if needed), booked your hotel, and made travel arrangements, you'll be good to go. We'll be providing more information in future posts as we put all details together. But for now, anticipate a great road trip with an awesome group of hikers!
Stay tuned as we provide more details for our upcoming 2017 LATH Las Vegas Road Trip Hike!