Thank you to all the LA Trail Hikers that made it out to our Dodger Night event! We hope you all had a great time and enjoyed a winning Dodger game! #LetsGoDodgers #GoLATH
Join us on Wednesday, September 19, 2018 as the LA Trail Hikers return to Dodger Stadium to enjoy an evening game (game starts at 7:10pm) as the Dodgers take on the Colorado Rockies.
Tickets
This year we're looking to do a bulk purchase of group tickets so we can all sit in the same area (Preferred Reserve MVP area).
Tickets were $29 per person.
Deadline for ticket money was:  Thursday, August 30, 2018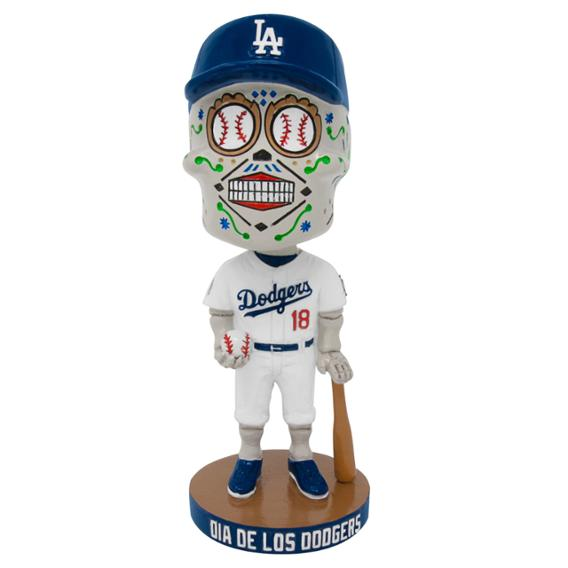 This special event ticket package includes your ticket to the game and an exclusive Dodgers' Dia de Los Dodgers Night bobblehead.
Tickets have now been purchased. No further transactions being handled.

No Ticket Refunds after  Thursday, August 30, 2018
Miss the ticket deadline?
Didn't get a LATH ticket before the deadline, but still want to join us at the game? 
Although the special Dia De Los Dodgers (bobblehead) tickets are now sold out, you can still buy individual game tickets next to or really close to where we are sitting. We'll be taking up about half of 5 whole rows!
We are sitting Left Field side (closer to the Dodger Bullpen):
Reserve Level Section 55:
– Rows K – N, Seats 11 – 20
– Row O, Seats 13 – 20
You can purchase your own tickets next or near by at:
Dodgers.com Sept 19 Game Tickets

Or here (click on the green 55 on the left side):
Vividseats.com Sept 19 Game Tickets
Group Picture
We'll be taking a group picture during the top of 7th Inning. Location will be right outside the entrance to our section.
We look forward to seeing you there!
#GoLATH #ITFDB
Getting to Dodger Stadium
Dodger Stadium
1000 Elysian Park Ave.
Los Angeles, CA 90012
1) Dodger Express (from Union Station, Alemeda side)
Simply show up to the front of Union Station (paid parking structures available & easy to get to from Red/Gold Line) and you can take the shuttle up to the first stop at Dodger Stadium for free.
https://www.mlb.com/dodgers/ballpark/transportation/dodger-stadium-express
2) Lyft, Uber, & Uber Pool
Lyft & Uber can take you directly to the game. And, if you want to ride share with other hikers, you can simply split the cost with 5 to 6 people on an Uber Pool ride.
3) Parking at Dodger Stadium
You can park at Dodger Stadium for $20, or prepay online for $15.
https://www.mlb.com/dodgers/ballpark/transportation/general-parking