TRAIL NAME: Big Horn Mine trail
HIKE DATE: Sunday, October 28, 2018
MEETING TIME: 7:45 am to 8:00 am
(We will wait 15 minutes at McDonalds and leave by 8am)
Return Approx: 12:00 pm
HIKE LEAD: Diana Herrera
HIKE LEVEL: Level 3 – (An easier moderate hike with some incline and rocky trail sections)
WHAT IS A HIKING LEVEL?:
Find out more about hiking levels here:
https://latrailhikers.com/about/hike-levels/
HIKE RSVP:
https://www.facebook.com/latrailhikers/events
HIKE DURATION: 2.5 hours (approx.) (does not include driving time)
HIKE DISTANCE: 4 miles Roundtrip (approx).
MEETING LOCATION:
McDonalds Parking Lot – Silverwood Lake (We'll drive to the trail head from here)
3230 Wagon Train Rd,
Phelan, CA 92371
DIRECT LINK: https://goo.gl/maps/53nkUhTAuyp

TRAVEL NOTE: The meeting point is almost an hour drive from L.A. so make sure to leave your house with plenty of time and plenty of gas because from the meeting point we still have to drive another 45 minutes to trailhead.
PARKING: You will need an Adventure Pass parking permit usually $5.00, buy at REI/BIG 5 or another designated sports store before arriving at the meeting point. You can also purchase an Annual Pass for $30 (and ask for a second vehicle annual pass for an additional $5, total $35 for two at the time of purchase).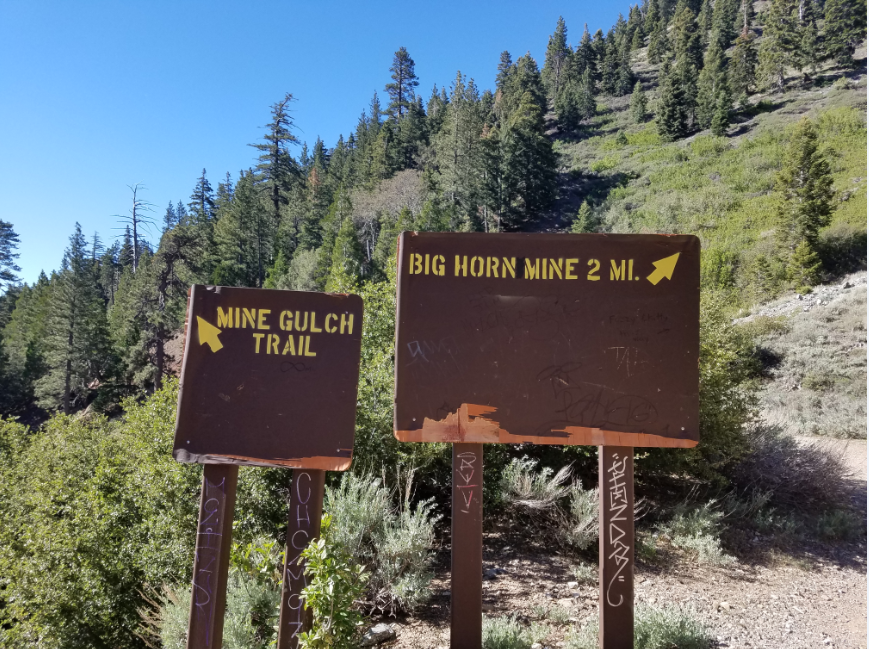 HIKE WALKTHROUGH: We start at the Trailhead of the Vincent Gulch Divide Parking Lot on the left off the Angeles Crest Highway 2. We head left opposite the sign for Mt. Baden-Powell trail on the right. The trail is mostly fire road but has some areas where the trail turns into a very narrow single track and some rocky areas. After a relatively level beginning, the trail picks up a little bit of elevation. Along the way, we will have beautiful views of the San Gabriels and Huge Pine Trees. After about 1 mile into the hike we will come across one of the mining tunnels just to the right of the trail where often times water is flowing from this tunnel, you can look inside but we will continue up to Big Horn Mine. A little further up a small ridge we will get spectacular views of the mountains and valley below. Once we get to the mine, you have to remember that the mine is old and falling apart in most places so you need to be careful if going to explore the mine.
REQUIRED: 1.5 to 2 liters of water, sports/hiking shoes with good grip.
RECOMMENDED: Sun Screen and layers, a hat.
DOG FRIENDLY?: Friendly (all dogs must be on leash) and must have previous hiking experience. Should be friendly with other dogs and hikers.
HOW DO I PARTICIPATE WITH THE GROUP ON THIS HIKE?
1. Read the Hike's Details we link at the very top of this page.
2. Make sure that the Hike Level accommodates your hiking experience.
3. If, and only if it suits you, then RSVP for this event and show up the day of the hike with all necessary gear and water (we mention everything you need on the details page for this hike).
MY FRIEND SAID I CAN DO THIS HIKE, I SHOULD BE ABLE TO DO IT, RIGHT?
We take your safety quite seriously, and would not like for you to attend a hike you're not ready for. You know your body and hiking experience better than your friends. Whether you are a first-timer or an experienced hiker, please read our hike details page as the hike may not suit your experience level. We have a better experience if every hike has hikers of the intended level.
DISCLAIMER: LA Trail Hikers and its Leads/Organizers/Participants do not take responsibility for any harm, bodily injury, accidents, or damage to personal property. By clicking "Attending," or attending the hike, you confirming that you understand that all outdoor activity such as hiking, backpacking, and trekking have an associated danger, and will not hold any hike lead/organizer, participant, LA Trail Hikers, or any group associated pet responsible for any hazard to your well being. Additionally, you will not be allowed to participate with the group if you are not adequately prepared with enough water and the right gear/equipment/nutrition essential to complete the hike. You are fully responsible for yourself.
MAP: