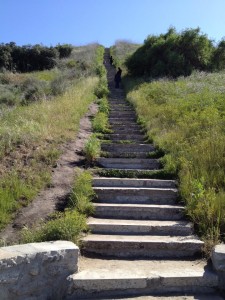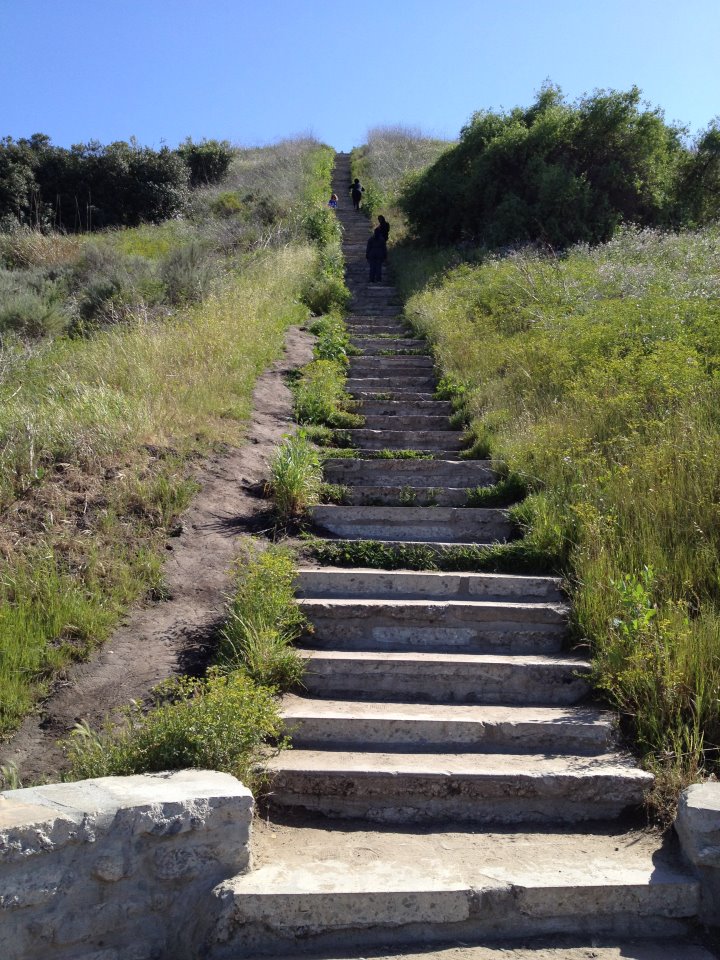 REAL TRAIL NAME: Culver City Stairs aka Jefferson Stairs
*** THIS PAGE IS NOT UP TO DATE ***
LAST HIKE DATE: Saturday, June 23, 2012
MEETING TIME: 9:00am
(We'll wait about 15 mins. after the meeting time)
HIKE LEAD: TBA
HIKE LEVEL: Level 3
WHAT IS A HIKING LEVEL?:
Find out more about hiking levels here:
http://latrailhikers.com/about/hike-levels/
DURATION: 2 hours (approx.)
DISTANCE: 375 to 500+ steps and a one (1) mile hiking trail. (Elevation Peak 511ft.)
MEETING LOCATION:
At the entrance on Jefferson Blvd., near the sign at the entrance of the park stating:
Baldwin Hills Scenic Overlook
6300 Hetzler Rd.
Culver City, CA 90232
DIRECTIONS:
The park's main entrance is at 6300 Hetzler Rd. in Culver City off of Jefferson Blvd.
The park is accessible via the 10 and 405 freeways.
ABOUT THE HIKE:
Our hike will begin with our visit to the infamous STAIRCASE known as the Culver City Stairs aka the Jefferson Stairs. What makes these steps different from other stairs is that these steps are not the same size or uniform. These steps are uneven, ranging from a couple of inches to approximately 2 feet, and some are deeper than others. These steps range from 375 to 500+ steps (depending on the length of your legs).
From the Jefferson Blvd. entrance, alongside the staircase, is a 1-mile hiking trail going up to the top. It is suggested that if you might want to take this trail if you may have issues with your knees.
When we get to the marker "375 feet above sea level", we will take that last stretch consisting of approximately 30-steps to the top. At this elevation marker, exists a little poem engraved on the concrete ground, which says:
Step by step your climb expands
the cityscape a thousand fold,
framing it ever more broadly with hillside and sky.
The park is entitled as a "scenic overlook" due to the beautiful views of the native wildflowers, birds and wildlife.
REQUIRED: 1 to 2 Liters of water
RECOMMENDED: sports/hiking shoes, sunscreen, snack(s)
DOG FRIENDLY: No dogs allowed
WEB RESOURCES: http://www.parks.ca.gov/?page_id=22790
PARKING: There is "limited" free parking on Jefferson and there is also parking that is available at the top of the hill near the visitor center for $6.
BATHROOM / WATER FAUCET : Are available at the top of the hill near the visitor center.
RSVP ONLINE:
Facebook – http://www.facebook.com/latrailhikers?sk=events
HOW DO I PARTICIPATE WITH THE GROUP ON THIS HIKE?
1. Read the Hike's Details we link at the very top of this page.
2. Make sure that the Hike Level accommodates your hiking experience.
3. If, and only if it suits you, then RSVP for this event and show up the day of the hike with all necessary gear and water (we mention everything you need on the details page for this hike).
MY FRIEND SAID I CAN DO THIS HIKE, I SHOULD BE ABLE TO DO IT, RIGHT?
Contrary to popular belief, you know your body and hiking experience better than your friends. Whether you are a first-timer or an experienced hiker, please read our hike details page as the hike may not suite your experience level. We have a better experience if every hike has hikers of the intended level.
DISCLAIMER: LA Trail Hikers and its Leads/Organizers/Participants do not take responsibility for any harm,bodily injury, accidents, or damage to personal property. By clicking "Attending," or attending the hike, you confirming that you understand that all outdoor activity such as hiking, backpacking, and trekking have an associated danger, and will not hold any hike lead/organizer, participant, LA Trail Hikers, or any group associated pet responsible for any hazard to your well being. Additionally, you will not be allowed to participate with the group if you are not adequately prepared with enough water and the right gear/equipment/nutrition essential to complete the hike. You are fully responsible for yourself.