TRAIL NAME: Portola Trail at Elysian Park
HIKE DATE: Sunday, September 11, 2015

MEETING TIME: 2:00pm to 2:20pm
(Please be on time so we can depart at 2:20pm)
Return approx: 5:45PM
HIKE LEAD: Jason Bazalar
HIKE LEVEL: Level 6 – (Moderate Strenuous workout. Some inclined uphills. NO BEGINNERS, NO KIDS, NO DOGS)
HIKE RSVP:
https://www.facebook.com/latrailhikers/events
HIKE DISTANCE: 5 mile loop (Approx.)
HIKE DURATION: 3 Hours (Approx.)
MEETING PLACE:
Portola Trail Head
1578 North Broadway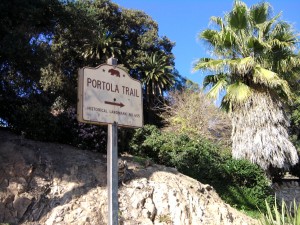 Los Angeles, CA 90031
RESIDENTIAL PARKING:
You can find free residential parking up along Casanova Street. This is a cross street to Broadway. Try not to park directly on Broadway. You can use this address to find the beginning of the street:
400 West Casanova St.
Los Angeles, CA 90031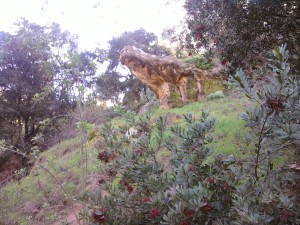 TRAIL WALKTHROUGH: We'll meet at the corner of the park entrance where you'll see the "Portola Trail" historical land mark sign. We'll start going up and go around Buena Vista point. The trail will take us through some comfortable green guided trails up around the view area. This will be the first 1 mile or so. We'll be going over the 110 fwy bridge while getting an fabulous view of the fwy tunnels and Los Angeles. After we across and, we'll head towards the Elysian Reservoir Grand Point View area. The next 1/2 mile should get us there. From here we start to go on a trail that is surrounded with both pine and palm trees. We'll get to the Grand Point View area where you'll have a great view of the Los Angeles Skyline. We'll backtrack from there and start to ascend up along the east side of Elysian Park. These hills have trails that a bit steep but worth getting on. The next mile will have short inclines of hills with narrow trails. Eventually we'll get to the park area at the top of the hill. We'll start to decend down one of hidden little roads there that will get us down along Stadium Way. We will go along this luscious trail to go visit what we call "Crocodile Rock."  The next 1/4 mile will have us going back up some small demanding trails. We'll end up in the area with where we can get a good glimpse of Chavez Ravine and the ever-popular Dodger Stadium. A view not many get to see. In addition, we'll see parts of the Los Angeles Police Academy area. We'll head for 1/4 over to Angel's View. We'll go down and go downhill to go around the Academy area and find the connection of our trail on along Academy Rd. There is a park which will have the continuation of our trail. We'll start going uphill for about a 1/4 mile to get to the top again. From there we'll find that will get us back across 110 fwy. We may go along Park Row Dr. until we get to the bridge crossing. From there we'll continue along the same path we took around Buena Vista Point back down to the Portola Trail Head.
NOTES FROM THE HIKE LEAD:
– Light-colored clothing will keep you cool, and a hat & sunscreen will help protect yourself against the afternoon sun.
– Since we'll be starting later in the morning, the weather may warm up a bit so water will be key in finishing this hike at your best.
– You will need comfortable hiking shoes with soles that have grip as we ascend in some areas.
– This will be a challenging hike, so I don't recommend it for those who have not done an uphill daytime level 5 hike or higher with our group. If you feel this may be asking a bit too much, or are not sure of what this may mean, please consider one of our other lower leveled hikes (1 thru 5) to have a better experience.
REQUIREMENTS:  WATER. 2-3 Liters of water. Comfortable hiking/sports shoes with good traction. Water will be checked at this hike, so please make sure you have enough, or you will be turned away from hiking with the group.
WATER REQUIRED. WATER CHECK WILL BE PERFORMED.  If you do not take enough water or are not appropriately equipped for this hike, you will be turned away from doing this hike with us even if you show up. Please note, that we have expectations for Level 5 evening hikers. Read all the details.
WATER NOTE:  You'll need more than just one or two of those little 12 oz. bottles of water (this is for those who think one normal bottle of water is enough). Think about bringing at least 3 of those in a back pack, or bring a hydration pack instead. It is your responsibility to bring enough water, keep in mind we may not pass by a water fountain this time.
RECOMMENDED:  We recommend long light pants (no jeans) as there may be much brush on some narrow parts of the trail. Hiking sticks/poles help you go up hill and keep you balanced when going downhill. Bug repellent helps on days that may have bugs. It's good to keep it handy even if you don't use it on this particular hike.
DOG-FRIENDLY?: No. Dogs should not accompany us on this specific hike.
HOW DO I PARTICIPATE WITH THE GROUP ON THIS HIKE?
1. Read the Hike's Details we link at the very top of this page.
2. Make sure that the Hike Level accommodates your hiking experience.
3. If, and only if it suits you, then RSVP for this event and show up the day of the hike with all necessary gear and water (we mention everything you need on the details page for this hike).
MY FRIEND SAID I CAN DO THIS HIKE, I SHOULD BE ABLE TO DO IT, RIGHT?
We take your safety quite seriously, and would not like for you to attend a hike you're not ready for.  You know your body and hiking experience better than your friends. Whether you are a first-timer or an experienced hiker, please read our hike details page as the hike may not suite your experience level. We have a better experience if every hike has hikers of the intended level.
DISCLAIMER: LA Trail Hikers and its Leads/Organizers/Participants do not take responsibility for any harm,bodily injury, accidents, or damage to personal property. By clicking "Attending," or attending the hike, you confirming that you understand that all outdoor activity such as hiking, backpacking, and trekking have an associated danger, and will not hold any hike lead/organizer, participant, LA Trail Hikers, or any group associated pet responsible for any hazard to your well being. Additionally, you will not be allowed to participate with the group if you are not adequately prepared with enough water and the right gear/equipment/nutrition essential to complete the hike. You are fully responsible for yourself.
MAP (Click on the points):