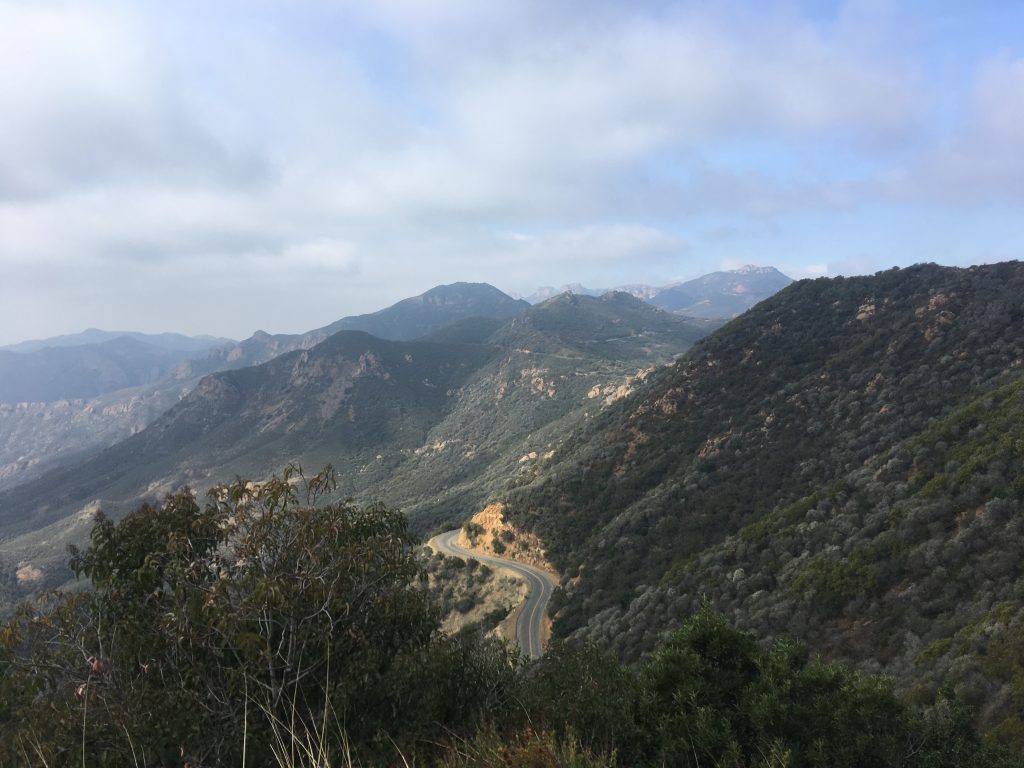 TRAIL NAME: Backbone Trail, Encinal Canyon Section
HIKE DATE: Saturday, April 07, 2018
MEETING TIME: 8:00 am to 8:15 am
(Please be there on time at the meeting point. We'll caravan to the trail head parking area starting at 8:15 am)
Return approx: 2:30pm
HIKE LEAD: Robert Bittner
HIKE LEVEL: Level 5 – (Moderate workout – Mostly flat, leveled for distance)
WHAT IS A HIKING LEVEL?:
Find out more about hiking levels here:
https://latrailhikers.com/about/hike-levels/
HIKE RSVP:
https://www.facebook.com/latrailhikers/events
HIKE DURATION: 5.5 hours (approx.)
HIKE DISTANCE:  10.1 miles (approx.)
HIKE TYPE: This is a point-to-point hike, meaning we'll leave half of the cars at Encinal Canyon Trailhead and drive the other half to Mishi Mokwa Trailhead, about 15 minutes away.  After the hike we'll shuttle people back to retrieve their cars.
MEETING LOCATION:
Encinal Canyon Trailhead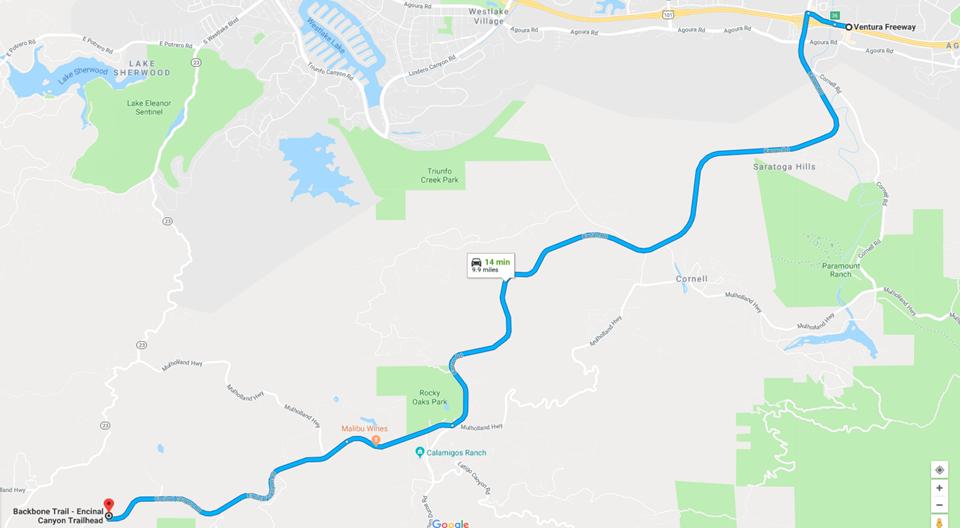 Take the 101 Freeway to Kanan Road.  Turn left (south) for 6 miles to Mulholland Highway, where you'll turn right.  In about a mile stay left for Encinal Canyon Road, then drive 2.5 miles. The dirt trailhead parking lot on the north side of the road isn't signed, but's obvious. It's at the intersection of Encinal Cany
on Road and Rattlesnake Road, across from Malibu Conservation Camp #13 at 1250 Encinal Canyon Road.   It's about a 70 minute drive from downtown Los Angeles on a typical Sunday morning.
Direct Link: https://www.google.com/maps/dir/34.085486,-118.8624604/@34.0840644,-118.8627041,863m/data=!3m1!1e3?hl=en
PRIOR TO GOING TO MEETING POINT:
There's a Ralph's, Von's and Starbuck's just north of the Kanan Road exit if you need to make a stop on the way.  Please allow sufficient time so you arrive on time after purchasing any goods.
HIKE WALKTHROUGH: This hike starts near our Mishi Mokwa / Sandstone Peak hike but goes east instead of west.  Ten miles and only a Level 5? Actually a generous Level 5. This is a beautiful strolling hike through lush chaparral and native meadows, mostly on new trails designed to modern standards (all user groups, four feet wide, gradual grades).  We'll gain 400 feet during the first two miles, passing wild sages, cucumber, mint and manzanita. Over the next 3 miles we drop a few hundred feet along Encinal Canyon before tackling our only brief aggressive stretch to a hilltop lunch spot.  From there we gently descend 1000 feet over 5 miles of green mountains.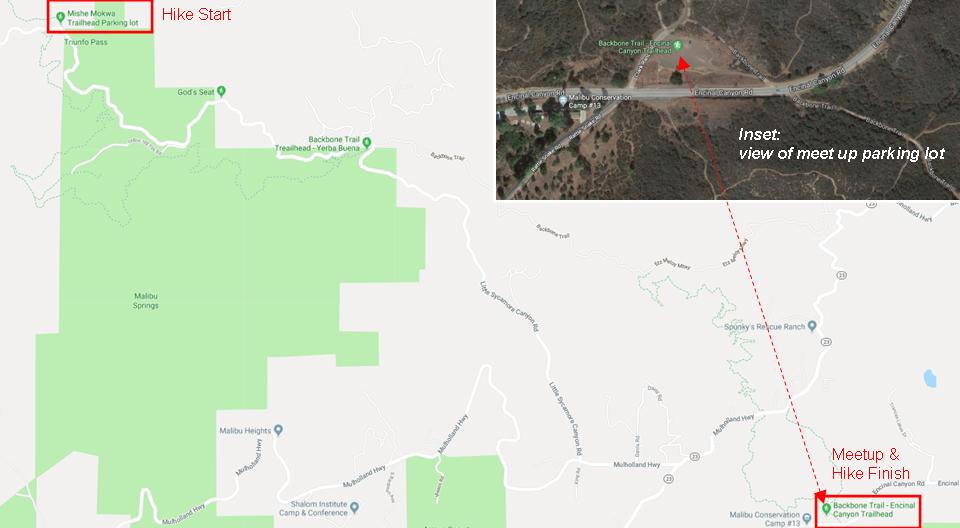 This stretch is popular with mountain bikers and trail runners as well as hikers.
Additional details can be found on the AllTrails website.  Please note that description is the reverse of our plan:
https://www.alltrails.com/explore/trail/us/california/backbone-trail-encinal-canyon
WATER REQUIRED. WATER CHECK WILL BE PERFORMED: If you do not take enough water or are not appropriately equipped for this hike, you will be turned away from doing this hike with us even if you show up. Please note, that we have expectations for Level 5 hikers. Read all the details.  While we are walking through one of the most forested chaparrals in Malibu, warm temperatures and the sun's reflection off of the rocks and soil can demand sufficient water.
REQUIRED: at least 2 liters or at least three 20 oz water bottles), 2-3 liters recommended. Comfortable hiking/sports shoes with good grip.
RECOMMENDED: A good snack / lunch and comfortable walking shoes, sunscreen/lip balm, bug spray, good sized snack or snacks.
NOTES FROM THE HIKE LEAD:
– Except for a short stretch on fire road, the trail is wide, quite smooth and has comfortable slope changes.  Experienced hikers will be comfortable in trail shoes, and boots will work fine.
– We can encounter up to 20 degree temperature changes throughout the day.  Dress in layers as suits you.
– A hat and sunscreen are advisable.
– For last minute needs, there's a restroom ~ 1/2 mile from Mishi Mokwa Trailhead if needed.
RESTROOMS: There are no facilities along the trail.  There's a restroom at Sandstone Peak Trailhead, about 1/2 mile from our hike start point.
DOG-FRIENDLY?: No.
HOW DO I PARTICIPATE WITH THE GROUP ON THIS HIKE?
1. Read the Hike's Details we link at the very top of this page.
2. Make sure that the Hike Level accommodates your hiking experience.
3. If, and only if it suits you, then RSVP for this event and show up the day of the hike with all necessary gear and water (we mention everything you need on the details page for this hike).
MY FRIEND SAID I CAN DO THIS HIKE, I SHOULD BE ABLE TO DO IT, RIGHT?
We take your safety quite seriously, and would not like for you to attend a hike you're not ready for.  You know your body and hiking experience better than your friends. Whether you are a first-timer or an experienced hiker, please read our hike details page as the hike may not suit your experience level. We have a better experience if every hike has hikers of the intended level.
DISCLAIMER: LA Trail Hikers and its Leads/Organizers/Participants do not take responsibility for any harm,bodily injury, accidents, or damage to personal property. By clicking "Attending," or attending the hike, you confirming that you understand that all outdoor activity such as hiking, backpacking, and trekking have an associated danger, and will not hold any hike lead/organizer, participant, LA Trail Hikers, or any group associated pet responsible for any hazard to your well being. Additionally, you will not be allowed to participate with the group if you are not adequately prepared with enough water and the right gear/equipment/nutrition essential to complete the hike. You are fully responsible for yourself.
MAP: