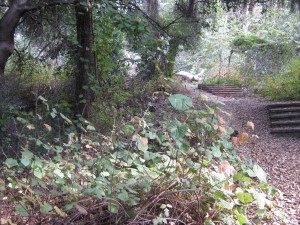 REAL TRAIL NAME: Arroyo Seco Trail/Loop at Rose Bowl  (Evening)
*** THIS PAGE IS NOT UP TO DATE ***
LAST HIKE DATE:  Thursday, June 16, 2011
HIKE LEAD: TBA
HIKE LEVEL: Level 3
MEETING TIME: 7:00 PM (Please be there on time)
MEETING LOCATION:
Rose Bowl Parking Lot I (Brookside Park)
By the baseball field/Kidspace Childrens Museum
480 N. Arroyo Boulevard
Pasadena, CA 91103
http://www.rosebowlstadium.com/parking.php
LENGTH: 3.5 Miles (Round trip)
HIKE DURATION: 1.45 Hours (approx)
DOG-FRIENDLY?: Yes, but on keep them on a leash.
RECOMMENDED: Large Water Bottle (at least 1 liter) and comfortable shoes.
HIKE WALKTHROUGH: We begin by meeting in Parking Lot I, hike along the trail on West Drive (cliff side) and ascend on Salvia Canyon Road to Parkview avenue, descending to the Upper Arroyo Seco trail head that starts at the other end of the Golf Course. We go along side on a fairly easy shaded trail alongside the golf course. Then this trail becomes its own treat as we get closer to the Arroyo going under the 210 Fwy and cross the Arroyo. We will then continue onward to do a complete loop.
RSVP ONLINE:  http://www.facebook.com/latrailhikers
PARKING FEE?: There is no cost in to park at the meeting point and at the trail head.
PARKING MAP (Lot I): http://www.rosebowlstadium.com/parking.php
MAP: