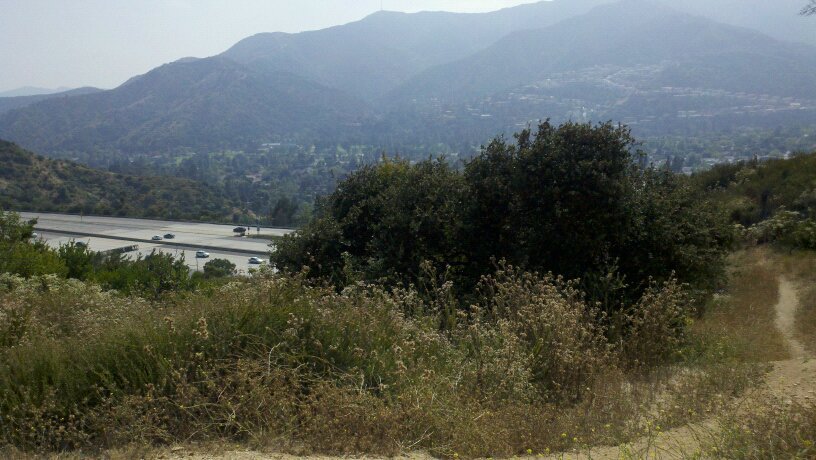 TRAIL NAME: Cherry Canyon Park – Loop around Descanso Gardens
HIKE DATE:  Saturday, July 16, 2016
MEETING TIME: 5:00pm – 5:15pm
(Please be on time, we are looking to start at 5:15pm)
Return Approx: 7:30pm
HIKE LEAD: Diana Herrera
HIKE LEVEL:  Level 4 – (Some moderate uphill sections, not intended for first-time hikers)
WHAT IS A HIKING LEVEL?:
Find out more about hiking levels here:
http://latrailhikers.com/about/hike-levels/
HIKE RSVP (Optional):
https://www.facebook.com/latrailhikers/events
HIKE LENGTH: 3.5 Miles (Round trip)
HIKE DURATION: 2 Hours (approx)
MEETING LOCATION:
Descanso Gardens (Meet by the Parking Lot Gate Entrance/Sign)
1418 Descanso Drive
La Cañada Flintridge, CA 91011
We will park street-side, just outside of the Descanso Gardens parking lot, closest to the gate/street.
HIKE WALKTHROUGH: The trail head is to the right of the gates of Descanso Gardens on the same side of the street and clearly visible (there are three yellow posts accross). The first quarter mile is shaded but quite a work out as it ascends by way of short/steep switch backs walk towards the top of the hill. Once at the top we will be on Descanso Mtwy and continue to gain more altitude while enjoying a nice view of Glendale and La Canada. We will get to a power tower stop for a short water break and start heading back via Edison road, exit the park, continue on Forest Hill Dr. (a cement road) and on our way back to Descanso drive on a quiet residential area.
REQUIRED: Water at least 1 liter (3 small water bottles), shoes with grip.
RECOMMENDED: Large Water Bottle (camel pak recommended), hiking shoes, hiking poles (highly recommended), light snack, and bug repellent.
RESTROOMS: There are no restrooms along the trail. You'll want to take care of any facility use prior to arriving to the hike.
DOG-FRIENDLY?: Yes, but on keep them on a leash.
HOW DO I PARTICIPATE WITH THE GROUP ON THIS HIKE?
1. Read the Hike's Details we link at the very top of this page.
2. Make sure that the Hike Level accommodates your hiking experience.
3. If, and only if it suits you, then RSVP for this event and show up the day of the hike with all necessary gear and water (we mention everything you need on the details page for this hike).
MY FRIEND SAID I CAN DO THIS HIKE, I SHOULD BE ABLE TO DO IT, RIGHT?
We take your safety quite seriously, and would not like for you to attend a hike you're not ready for.  You know your body and hiking experience better than your friends. Whether you are a first-timer or an experienced hiker, please read our hike details page as the hike may not suite your experience level. We have a better experience if every hike has hikers of the intended level.
DISCLAIMER: LA Trail Hikers and its Leads/Organizers/Participants do not take responsibility for any harm,bodily injury, accidents, or damage to personal property. By clicking "Attending," or attending the hike, you confirming that you understand that all outdoor activity such as hiking, backpacking, and trekking have an associated danger, and will not hold any hike lead/organizer, participant, LA Trail Hikers, or any group associated pet responsible for any hazard to your well being. Additionally, you will not be allowed to participate with the group if you are not adequately prepared with enough water and the right gear/equipment/nutrition essential to complete the hike. You are fully responsible for yourself.
MAP:  We will park outside of the Descanso Gardens parking lot closest to the gate/street opening.