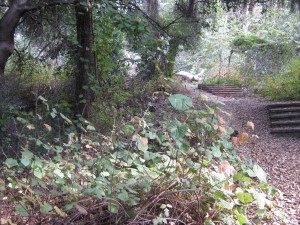 REAL TRAIL NAME: Lower Arroyo Seco Trail (Evening)
HIKE DATE:  Thursday, October 10, 2013

MEETING TIME: 7:00 PM
(We'll wait at most 15 mins past the meeting time. We leave from the meeting point at 7:15pm)
HIKE LEAD: Jason Bazalar
HIKE LEVEL: Level 2  (Easier Hike – Great for Beginners!)
WHAT IS A HIKING LEVEL?:
Find out more about hiking levels here:
http://latrailhikers.com/about/hike-levels/ 
MEETING LOCATION:
San Pasqual Stables Parking Lot
221 San Pasqual Ave
South Pasadena, CA 91030
LENGTH: 4 Miles (Round trip)
HIKE DURATION: 2 Hours (approx)
DOG-FRIENDLY?: Yes, but on keep them on a leash.
REQUIRED:  Large Water Bottle (at least 1 liter)
RECOMMENDED:  Comfortable workout (or hiking) shoes and a low beam flashlight.
HIKE WALKTHROUGH: This evening hike will start with a walk along the arroyo and then a possible set of different side trails can be taken, at the discretion of the hike lead. We will pass underneath historical bridges, pass the archery range and head to the end of the trail where we will have a snack break and head back. The ground on this trail is mostly flat but if we will hike up once or twice (depending on our timing) to the top of the bridges to provide a bit of a workout.
INFORMATIVE LINKS:
RSVP ONLINE:  http://www.facebook.com/latrailhikers
HOW DO I PARTICIPATE WITH THE GROUP ON THIS HIKE?
1. Read the Hike's Details we link at the very top of this page.
2. Make sure that the Hike Level accommodates your hiking experience.
3. If, and only if it suits you, then RSVP for this event and show up the day of the hike with all necessary gear and water (we mention everything you need on the details page for this hike).
MY FRIEND SAID I CAN DO THIS HIKE, I SHOULD BE ABLE TO DO IT, RIGHT?
Contrary to popular belief, you know your body and hiking experience better than your friends. Whether you are a first-timer or an experienced hiker, please read our hike details page as the hike may not suite your experience level. We have a better experience if every hike has hikers of the intended level.
DISCLAIMER: LA Trail Hikers and its Leads/Organizers/Participants do not take responsibility for any harm,bodily injury, accidents, or damage to personal property. By clicking "Attending," or attending the hike, you confirming that you understand that all outdoor activity such as hiking, backpacking, and trekking have an associated danger, and will not hold any hike lead/organizer, participant, LA Trail Hikers, or any group associated pet responsible for any hazard to your well being. Additionally, you will not be allowed to participate with the group if you are not adequately prepared with enough water and the right gear/equipment/nutrition essential to complete the hike. You are fully responsible for yourself.
MAP: