HIKE NAME: Mt. San Antonio (aka Mt Baldy) Loop via Devil's Backbone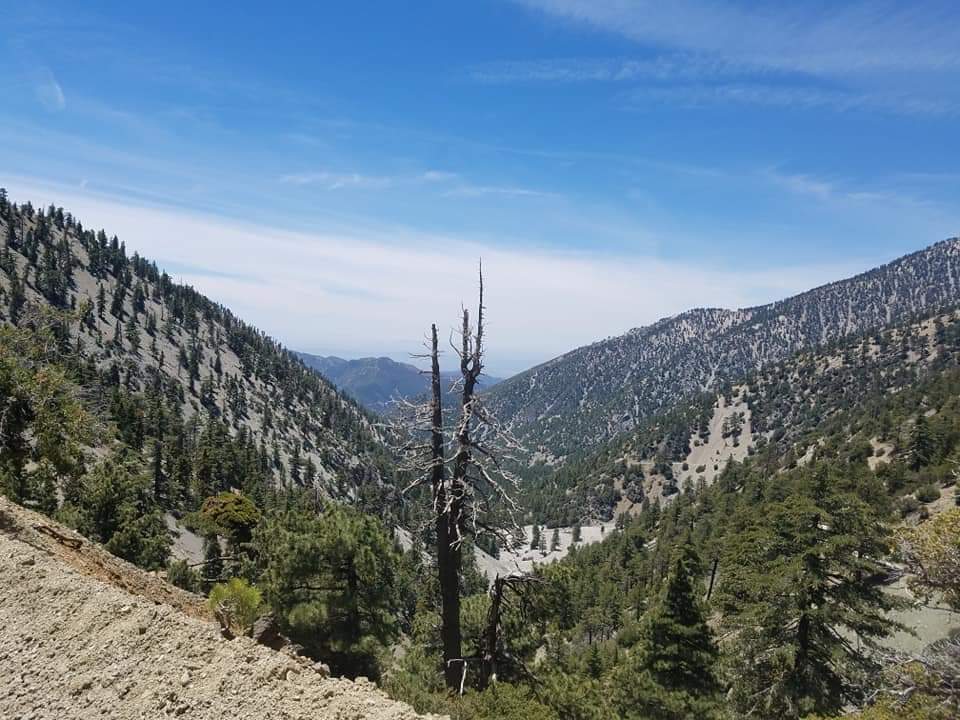 HIKE PREREQUISITE: Must have completed a LATH hike Level 7+ and up with no problem.
HIKE DATE: Saturday, September 21, 2019
LATH HIKE LEADS: Carol Martinez & Janiece Cordova
MEETING TIME: 5:00am – 5:15am
Please be on time. This is the time we'll be getting together at the meeting location.
Return Approx: 4:00pm
HIKE LEVEL: Level 9
(**Experienced Hikers only** – Highly Strenuous. Uphills with quick gain, No Beginners, Intermediate Hikers, No Kids, No Dogs)
WHAT IS A HIKING LEVEL?:
Find out more about hiking levels here:
https://latrailhikers.com/about/hike-levels/
HIKE RSVP:
https://www.facebook.com/latrailhikers/events
HIKE DISTANCE: 11.5 Miles (Roundtrip)
HIKE DURATION: 9 to 10.5 hours (approx.)
ELEVATION GAIN: 3,900 ft. with top Elevation of 10,068'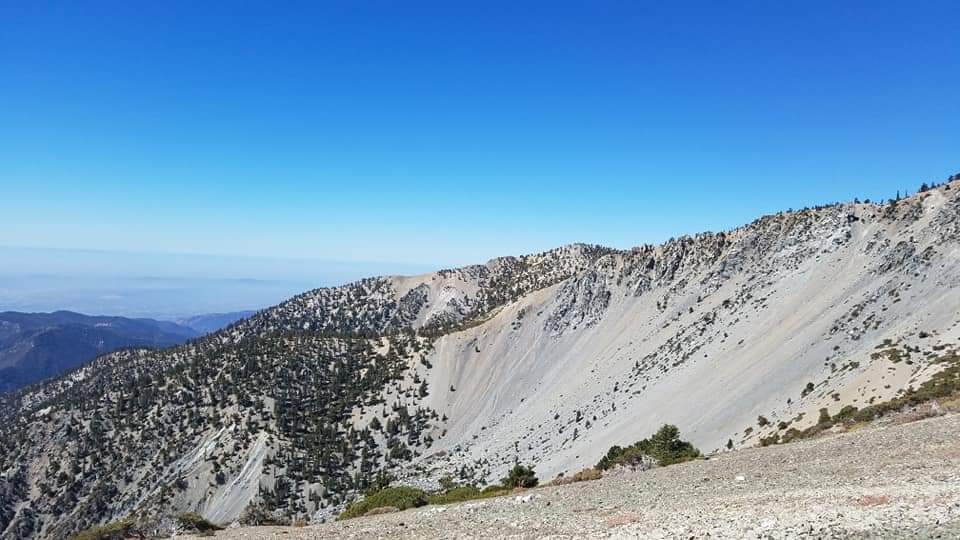 MEETING LOCATION:
Subway (Same plaza and parking lot as the Vons)
594 E Baseline Rd.
Claremont, CA 91711
NOTE: We'll be driving from Subway to the hike Manker Flats trail head. We can carpool/caravan from the meeting point.
PARKING PERMIT (REQUIRED): Adventure Pass: $5 Day, or $30 annual. Please get this ahead of time from a local Sports store like REI stores, Big 5 Sporting Goods, Outdoor Outlet (Alhambra) and other retailers prior to the hike. Please try to have this prior to the day of the hike. We recommend purchasing an annual pass ($30) and a second vehicle pass for an additional $5, which totals $35 for two annual passes.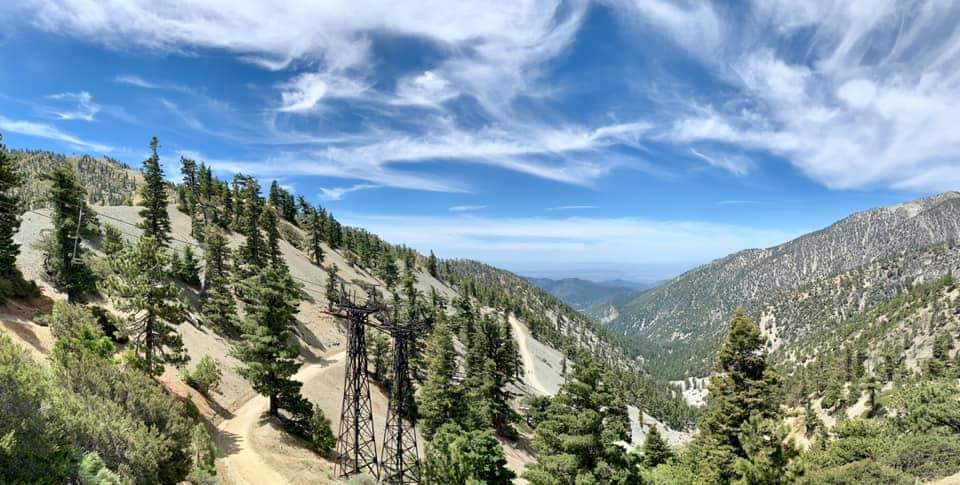 HIKE WALKTHROUGH: San Antonio Peak aka Mt. Baldy is the highest peak in San Gabriel Mountains and the highest point in Los Angeles County. Located in the Angeles National Forest, Mt. Baldy is one of the most prominent mountains with some amazing 360 degree views over Southern California. The summit actually has two peaks: the main peak, elevation 10,068 feet (3,069 m), and a sub-peak, West Baldy, at 9,988 feet (3,044 m). The hike is a strenuous one in which there is an approximate 3,900 feet of vertical gain to reach the top. The trail to the summit begins at Manker Flats trailhead and we take the winding fire road up to Baldy Notch at which we will take a break. We then follow the ski run next to the ski lift and then hike the Devil's Backbone to the summit. When reaching the summit we will take a longer break depending on the temperature and wind. Our return route will take us down the steep Baldy Bowl trail, passing the Sierra Club Ski Hut and San Antonio Falls on the way back to Manker Flats. Over half of this trail is partially or fully-exposed to the sun. And, reflection of sun from snow can cause sunburn as well. Be prepared for the cold, snow, ice and with proper sun protection (wide-brimmed hat, sunscreen, sunglasses, etc.).
This is the third of six southern California summits in what is called the 6-Pack of Peaks bundle. This is a good training for anyone preparing for more advanced hikes such as Mt. Whitney or Half Dome. Each of the 6-Pack is progressively higher in altitude, and all have respectable distance and vertical elevation gain.
WATER REQUIRED. WATER CHECK WILL BE PERFORMED. If you do not take enough water or are not appropriately equipped for this hike, you will be turned away from doing this hike with us even if you show up. Please note, that we have high, experienced expectations for Level 9 hikers.
HIKE REQUIREMENTS: Must have completed another LATH Level 7, 8, 9 hike prior to this hike.
GEAR REQUIREMENTS: WATER (at least 3 liters). Make sure you pack an extra water or tablets of electrolytes. Comfortable waterproof hiking boots with good grip. Adding microspikes to your shoes will help in keep best traction with snow (highly recommended). If you have them, gaiters will help keep snow out of your socks/show opening. An Adventure Pass parking permit. In addition, as Level 9 experienced hikers, you must already have a good idea what to pack for these more challenging hikes. If you are not sure what to take on bigger hikers, it is advised that you try a lower level hike so you learn to pack for more strenuous hikes.
GEAR CHECKLIST:
– Hiking Boots/Shoes with good grip (Required)
– Hiking Socks
– Windbreaker
– Gloves
– Flashlight (should we encounter twilight/darkness upon return)
– Trekking Poles
FOR COLDER SEASONS:
– Waterproof Hiking Boots/Shoes or Snow Shoes good grip (Required)
– Gaiters (optional)
– Microspikes or IceTrekkers, shoe chain traction (Highly recommended)
– Jacket (Must be familiar the layering system)
– Thermos (underlayer to keep warm – Optional)
– Hand Warmers (Optional)
– Beanie
– Scarf or Facemask
– Wool (Hiking) Socks
RECOMMENDED: Have a breakfast before meeting time. Take some enough snacks & a lunch (trail mix, nuts, granola bars, fruit, etc.) Wear sunscreen, comfortable warm clothes and shoes. Gators and eye protection (sunglasses).
RELATED LINKS:
DOG FRIENDLY?: No. Although dogs may be allowed in the area, we request no pets join us for this higher level hike.
HOW DO I PARTICIPATE WITH THE GROUP ON THIS HIKE?
1. Read the Hike's Details we link at the very top of this page.
2. Make sure that the Hike Level accommodates your hiking experience.
3. If, and only if it suits you, then RSVP for this event and show up the day of the hike with all necessary gear and water (we mention everything you need on the details page for this hike).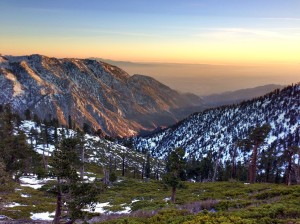 MY FRIEND SAID I CAN DO THIS HIKE, I SHOULD BE ABLE TO DO IT, RIGHT?
This is a higher level hike and should not be taken lightly. This is intended for hikers who have hiked with us on a Level 7 hike or higher . We take your safety quite seriously, and would not like for you to attend a hike you're not ready for. You know your body and hiking experience better than your friends. Whether you are a first-timer or an experienced hiker, please read our hike details page as the hike may not suite your experience level. We have a better experience if every hike has hikers of the intended level.
DISCLAIMER: LA Trail Hikers and its Leads/Organizers/Participants do not take responsibility for any harm,bodily injury, accidents, or damage to personal property. By clicking "Attending," or attending the hike, you confirming that you understand that all outdoor activity such as hiking, backpacking, and trekking have an associated danger, and will not hold any hike lead/organizer, participant, LA Trail Hikers, or any group associated pet responsible for any hazard to your well being. Additionally, you will not be allowed to participate with the group if you are not adequately prepared with enough water and the right gear/equipment/nutrition essential to complete the hike. You are fully responsible for yourself.