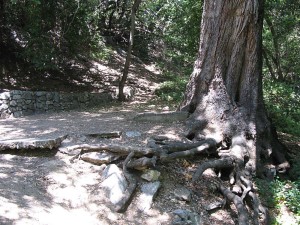 REAL HIKE NAME: Orchard Campground
LAST HIKE DATE:  Saturday, March 17, 2018
MEETING TIME: 7:00 am – 7:15 am
(We'll wait 15 mins, and leave at 7:15 am)
Return Approx: 11:45 am
HIKE LEAD: Isabel Fonseca
HIKE LEVEL: Level 6 – Moderate with plenty of Uphill – No Beginners, No Dogs
WHAT IS A HIKING LEVEL?:
Find out more about hiking levels here:
https://latrailhikers.com/about/hike-levels/ 
HIKE RSVP:
https://www.facebook.com/latrailhikers/events
HIKE DURATION: 3.5 Hours
HIKE DISTANCE: 6.4 miles approx. (Round Trip)
MEETING LOCATION:
Arco AMPM Gas Station
5 W Foothill Blvd
Arcadia, CA 91006
ELEVATION GAIN: 1,400 ft Approx.
TRAIL WALK-THROUGH: – This hike will introduce you to what you will experience if you ever choose to hike up to Mount Wilson. – From the trailhead we will hike to First Water (1,950' elevation) – 1.5 miles. – We will then continue to Orchard Camp – 2,960' elevation) 3.2 miles. – Expect a good pace from the start, as this is an intermediate hike.
WATER CHECK WILL BE PERFORMED: If you do not take enough water or are not appropriately equipped for this hike, you will be turned away from doing this hike with us even if you show up. Please note, that my expectations for intermediate hikes differ from your average general/beginner hike or stroll in nature.
REQUIRED: – Water – 2 liters, & 2 liters of Gatorade or something equivalent to it – Comfortable hiking shoes – A few good snacks.
RECOMMENDED: – Trekking Poles – Sunglasses – Sun block – First Aid Kit (At this stage of your hiking development, you are going to want to start looking into investing in a basic/personal First Aid Kit) – Pants
PARKING: We'll be parking in public streets, so no need for an adventure pass.
NOTES FROM THE HIKE LEAD:
– No beginners
– If you have plans on splitting from the group, please don't attend this hike.
– Plenty of poison oak is scattered along this trail—make sure you know what it looks like before you go.
– At this stage of your hiking development, you are going to want to start looking into investing in a basic/personal First Aid Kit
DOG FRIENDLY: No dogs allowed on this intermediate level hike.
RELATED LINKS:
HOW DO I PARTICIPATE WITH THE GROUP ON THIS HIKE?
1. Read the Hike's Details we link at the very top of this page.
2. Make sure that the Hike Level accommodates your hiking experience.
3. If, and only if it suits you, then RSVP for this event and show up the day of the hike with all necessary gear and water (we mention everything you need on the details page for this hike).
MY FRIEND SAID I CAN DO THIS HIKE, I SHOULD BE ABLE TO DO IT, RIGHT?
We take your safety quite seriously, and would not like for you to attend a hike you're not ready for.  You know your body and hiking experience better than your friends. Whether you are a first-timer or an experienced hiker, please read our hike details page as the hike may not suite your experience level. We have a better experience if every hike has hikers of the intended level.
DISCLAIMER: LA Trail Hikers and its Leads/Organizers/Participants do not take responsibility for any harm,bodily injury, accidents, or damage to personal property. By clicking "Attending," or attending the hike, you confirming that you understand that all outdoor activity such as hiking, backpacking, and trekking have an associated danger, and will not hold any hike lead/organizer, participant, LA Trail Hikers, or any group associated pet responsible for any hazard to your well being. Additionally, you will not be allowed to participate with the group if you are not adequately prepared with enough water and the right gear/equipment/nutrition essential to complete the hike. You are fully responsible for yourself.
MAP: