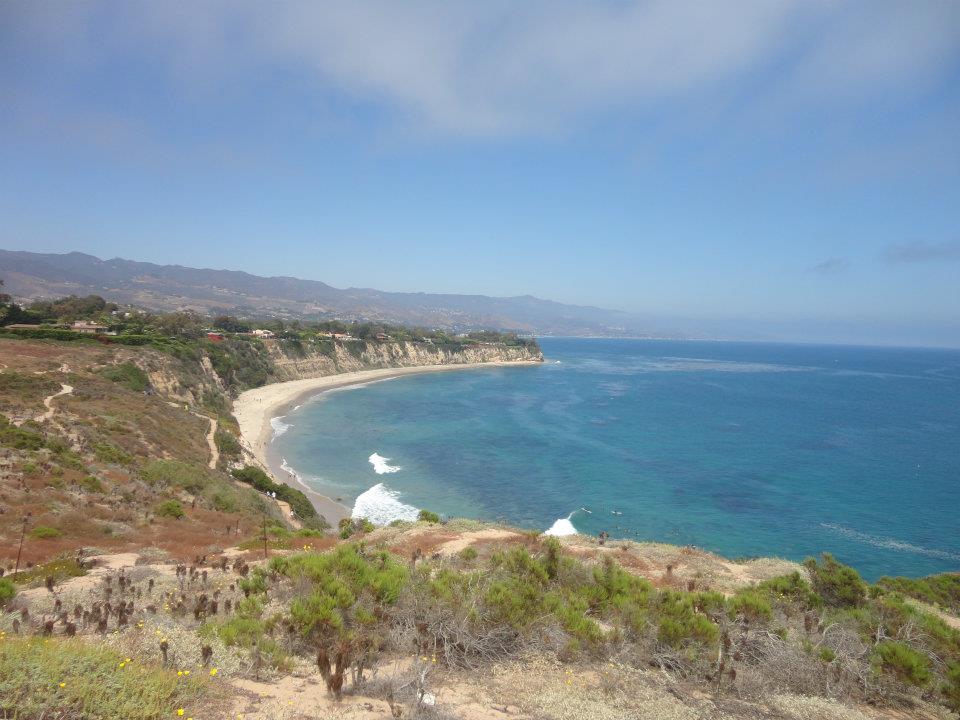 REAL HIKE NAME: Point Dume State Beach trail
HIKE DATE: Friday, April 26, 2019
MEETING TIME: 8:45 am – 9:00 am
(We'll wait about 15 mins past the meeting time and leave at 9:00am from the trail head)
Return Approx: 12:00 pm
HIKE LEAD: Carol Martinez
HIKE LEVEL: Level 3 – (Easier, lightly moderate hike, Sun exposed)

WHAT IS A HIKING LEVEL?:
Find out more about hiking levels here:
https://latrailhikers.com/about/hike-levels/
HIKE RSVP:
Facebook – https://www.facebook.com/latrailhikers/events
HIKE DISTANCE: under 3 Miles (Round trip)
HIKE DURATION: 2 Hours (approx)
MEETING PLACE:
Pavilions (Grocery Store) – Parking Lot
29211 Heathercliff Rd
Malibu, CA 90265
DIRECT LINK: https://goo.gl/maps/tYKaaqfnuJuK8GDc7
We will drive to the trail head from the meeting point.
PARKING FEE: Parking is free where we will be parking. (Unless you choose to go inside and pay $7-$10 fee.)
TRAIL WALKTHROUGH: When we arrive we will park from the end of Westward Beach Road, and start our hike from the parking lot to access the Point Dume Natural Preserve at the cul-de-sac location. It is a gradual ascending trail that leads to an ancient coastal bluff sand dune. An incredible view encompassing the entire Santa Monica Bay, north Malibu Coast, inland Santa Monica Mountains and distant Catalina Island may be enjoyed from the top on a clear day. We will be walking down a steep stairway from the east side of the bluff-top preserve which allows access to a more isolated beach and fine tide pooling opportunities. It is here where we will take a break and turn around from here.
REQUIRED: At least 1 Liter of water, sports/hiking shoes, a good sized snack. Sun screen.
RECOMMENDED: Tough/Sport/walking shoes. A hat. Any additional sun gear to help keep you cool.
DOG-FRIENDLY?: No. Dogs are not allowed on trails in the Point Dume Natural Preserve or on the beach.
HOW DO I PARTICIPATE WITH THE GROUP ON THIS HIKE?
1. Read the Hike's Details we link at the very top of this page.
2. Make sure that the Hike Level accommodates your hiking experience.
3. If, and only if it suits you, then RSVP for this event and show up the day of the hike with all necessary gear and water (we mention everything you need on the details page for this hike).
MY FRIEND SAID I CAN DO THIS HIKE, I SHOULD BE ABLE TO DO IT, RIGHT?
We take your safety quite seriously, and would not like for you to attend a hike you're not ready for. You know your body and hiking experience better than your friends. Whether you are a first-timer or an experienced hiker, please read our hike details page as the hike may not suite your experience level. We have a better experience if every hike has hikers of the intended level.
DISCLAIMER: LA Trail Hikers and its Leads/Organizers/Participants do not take responsibility for any harm,bodily injury, accidents, or damage to personal property. By clicking "Attending," or attending the hike, you confirming that you understand that all outdoor activity such as hiking, backpacking, and trekking have an associated danger, and will not hold any hike lead/organizer, participant, LA Trail Hikers, or any group associated pet responsible for any hazard to your well being. Additionally, you will not be allowed to participate with the group if you are not adequately prepared with enough water and the right gear/equipment/nutrition essential to complete the hike. You are fully responsible for yourself.