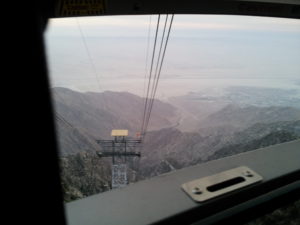 TRAIL NAME: Mount San Jacinto State Park – Desert View Trail via Aerial Tram (Riverside County)
*** FUN EASY HIKE & TRAM RIDE ***
If you've never been up the Palm Springs Tramway, here's your opportunity to take the rotating tramcar up 2.5 miles up to about 8,516 feet elevation. We'll likely get to hike in/around some snow areas. Great for beginners and those who have simply want a great fun and easy hike, with an option to look around the park. See you there!
HIKE DATE: Saturday, February 17, 2018

MEETING TIME (in Alhambra):  8:30am – 8:50am
Return Approx: 3:30 pm
HIKE LEAD:  Jason Bazalar
HIKE LEVEL: Level 1 – (Great for first-time hikers & Palm Springs Tram Riders. No dogs)
WHAT IS A HIKING LEVEL?:
Find out more about hiking levels here:
https://latrailhikers.com/about/hike-levels/
HIKE LENGTH: 0.5 – 1 Mile (approx) Roundtrip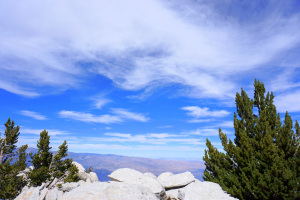 HIKE DURATION:  30 mins (approx.) + Exploration Time
TRAM ELEVATION GAIN: 5,873 feet
– Valley Station (elevation 2,643 feet)
– Mountain Station (elevation 8,516 feet)
MEETING LOCATION (ALHAMBRA):
Starbucks (Fremont & Mission)
1131 Fremont Avenue
Alhambra, CA 91803
All hikers will meet here. We'll try to consolidate cars so we can carpool/caravan to Palm Springs.
– Meet at Starbucks (address above): 8:30am – 8:50am
– Leave for Palm Springs: 8:50am – 9:00am
– Travel Time to Palm Springs Tramway Location (approx): 1.5 – 2 hrs , arrive about 11:00am
– Tram To Top (approx): 12pm Tram (You can Buy Tickets ahead of time, but we recommend simply getting them there in case we)
– Finish Event at Palm Springs (approx): 1:30pm (or stay longer if you'd like)
– Return to L.A. (approx): 3:15 pm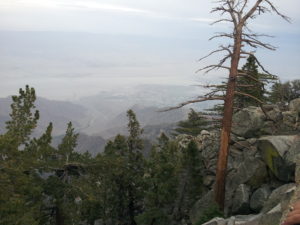 AERIAL TRAMWAY TICKET: We'll be taking the Aerial Tram ($25.95 round trip). Cash & Cards accepted.  We're looking to catch  12 PM tram (but not certain). You can purchase your tickets ahead of time here if you'd like: https://www.pstramway.com/tickets/
PARKING AT TRAMWAY: Free.
HIKE WALKTHROUGH: We'll all meet in Alhambra and then caravan to Palm Springs. We'll meet inside the Tramway building, giving those who may need tickets an opportunity to buy them there. We'll then ascend up to an elevation of 8,516 feet on the rotating airtram. Riding the tram to the top is quite an experience and the primary reason we're going on this hike. Once up at the top, we'll give you an opportunity to look around the visitor center. Then, we'll head outside. We'll go along the different trail paths we can and we'll have the chance to expore on our own. We'll then take a group picture and head back down.
WEATHER FORECAST: Mid to High 50's. So make sure to come with plenty of warm layers. Some light snow to be seen the surrounding area. High top shoes or Hiking boots are recommended. Ideally, water proof. For more weather updates check here on the day of the hike: https://www.pstramway.com/weather
REQUIREMENTS: WATER (1 – 2 small water bottles). Comfortable hiking/sports shoes with good grip. Dressed in warm layers (weather will be 30 degrees cooler at the top). Keep in mind there will be snow at the top. So dress accordingly and make sure your footwear keeps your feet warm.
RECOMMENDED: Take some enough snacks & a lunch (trail mix, nuts, granola bars, fruit, etc.) Wear sunscreen, comfortable clothes, and shoes. Windbreaker, gloves, beanie, warm jacket in case it is cold and high winds.
RELATED LINKS:
DOG FRIENDLY:  No. Dogs are not allowed on this higher level hike.
HOW DO I PARTICIPATE WITH THE GROUP ON THIS HIKE?
1. Read the Hike's Details we link at the very top of this page.
2. Make sure that the Hike Level accommodates your hiking experience.
3. If, and only if it suits you, then RSVP for this event and show up the day of the hike with all necessary gear and water (we mention everything you need on the details page for this hike).
MY FRIEND SAID I CAN DO THIS HIKE, I SHOULD BE ABLE TO DO IT, RIGHT?
We take your safety quite seriously, and would not like for you to attend a hike you're not ready for.  You know your body and hiking experience better than your friends. Whether you are a first-timer or an experienced hiker, please read our hike details page as the hike may not suit your experience level. We have a better experience if every hike has hikers of the intended level.
DISCLAIMER: LA Trail Hikers and its Leads/Organizers/Participants do not take responsibility for any harm, bodily injury, accidents, or damage to personal property. By clicking "Attending," or attending the hike, you confirming that you understand that all outdoor activity such as hiking, backpacking, and trekking have an associated danger, and will not hold any hike lead/organizer, participant, LA Trail Hikers, or any group associated pet responsible for any hazard to your well being. Additionally, you will not be allowed to participate with the group if you are not adequately prepared with enough water and the right gear/equipment/nutrition essential to complete the hike. You are fully responsible for yourself.
MAP (Starbucks, Alhambra):