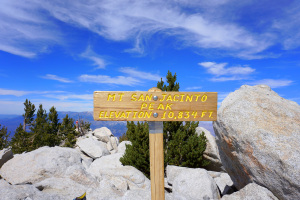 TRAIL NAME: San Jacinto Peak via Aerial Tram  – Mount San Jacinto State Park (Riverside County)
HIKE DATE: Saturday, May 19, 2018

MEETING TIME:  9:30am – 9:45am  – (at Long Valley Ranger Station)
(Please be on time to purchase your tram tickets with time)
Return Approx. 5:30pm – (to Ranger Station / Tram)
HIKE LEAD:  Robert Bittner
HIKE LEVEL: Level 7 – (Strenuous Uphills with quick gain, Not for beginners, kids, dogs)
WHAT IS A HIKING LEVEL?:
Find out more about hiking levels here:
https://latrailhikers.com/about/hike-levels/
HIKE LENGTH: 11 Miles (approx) Roundtrip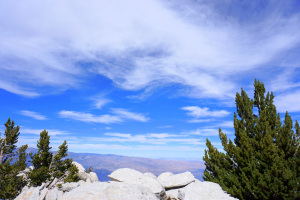 HIKE DURATION:  6.5 to 7.5 hours (approx.)
ELEVATION GAIN: 2,300 ft. with top Elevation of 10,834'
MEETING LOCATION:
Long Valley Ranger Station (9:30am – 9:45am)
NOTE: You will need to take the tram up to the top first to get to this location. Please plan accordingly to take a tram prior to the meeting time.
How to get there: Once you take the tram to the top station, you'll need to take the concrete path down on the other side.
Remember, you can ask how to get there once you're at the upper station.
Direct Link: https://goo.gl/maps/Bnq3F5J5pxm
TRAM LOCATION:
Palm Springs Aerial Tramway Station (Meet inside the building)
1 Tram Way,
Palm Springs, CA 92262
(The 8:00 and 8:30 tram tickets can ONLY be purchased at the tram station.  The 9:00 tram ticket can be purchased ahead of time on line.  The tram ride is 10 minutes.)
AERIAL TRAMWAY TICKET: We'll be taking the Aerial Tram ($25.95 round trip).  Get tickets here: https://www.pstramway.com/tickets/
PARKING FEE: $5 cash, or Visa, MasterCard, Discover, American Express.  Lot opens at 7am.
More info here:  https://www.pstramway.com/parking-information/
HIKE WALKTHROUGH: One of the "Three Saints", San Jacinto Peak is the highest peak of the San Jacinto Mountains and John Muir wrote, "the view is the most sublime spectacle to be found anywhere on this earth!"  Located within Mount San Jacinto State Park in Palm Springs. The hike is a semi-strenuous one in which there is an approximate 2,300 feet of vertical gain with a top elevation of 10,834 feet. The trail to the summit begins at The Long Valley Ranger Station. The initial 2 miles of the trail tends to be have a lot of people and traverses a lovely pine forest, passing through Round Valley. After this the hike starts ascending and is a bit more steep, leading to Wellman Divide at which we will likely take a break.  After the break we continue north towards the peak and near the summit, we will encounter a small stone cabin.  Once reaching the summit from atop San Jacinto Peak, you'll experience some wonderful views that include inland empire, Palm Desert, the San Bernardino and San Gabriel Mountains.This is the fifth of six southern California summits in what is called the 6-Pack of Peaks bundle.  This is a good training for anyone preparing for more advanced hikes such as Mt. Whitney or Half Dome.  Each of the 6-Pack is progressively higher in altitude, and all have respectable distance and vertical elevation gain.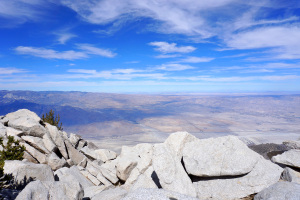 WATER REQUIRED. WATER CHECK WILL BE PERFORMED. If you do not take enough water or are not appropriately equipped for this hike, you will be turned away from doing this hike with us even if you show up. Please note, that we have expectations for Level 7 hikers. Read all the details.
PREREQUISITES: Must have completed a at least a Level 6 or 7 LATH hike prior to this hike. Will need to keep up with the group at all times.
REQUIREMENTS: WATER (at least 2 to 3 liters). Comfortable hiking/sports shoes with good grip. Dressed in layers (weather will be 30 degrees cooler at the top). Must be well prepared with nutrition and hydration.
RECOMMENDED: Take some enough snacks & a lunch (trail mix, nuts, granola bars, fruit, etc.) Wear sunscreen, comfortable clothes and shoes. Windbreaker, gloves, beanie, warm jacket in case it is cold and high winds. Trekking poles or hiking stick will help.
RELATED LINKS:
DOG FRIENDLY:  No. Dogs are not allowed on this higher level hike.
HOW DO I PARTICIPATE WITH THE GROUP ON THIS HIKE?
1. Read the Hike's Details we link at the very top of this page.
2. Make sure that the Hike Level accommodates your hiking experience.
3. If, and only if it suits you, then RSVP for this event and show up the day of the hike with all necessary gear and water (we mention everything you need on the details page for this hike).
MY FRIEND SAID I CAN DO THIS HIKE, I SHOULD BE ABLE TO DO IT, RIGHT?
We take your safety quite seriously, and would not like for you to attend a hike you're not ready for.  You know your body and hiking experience better than your friends. Whether you are a first-timer or an experienced hiker, please read our hike details page as the hike may not suite your experience level. We have a better experience if every hike has hikers of the intended level.
DISCLAIMER: LA Trail Hikers and its Leads/Organizers/Participants do not take responsibility for any harm,bodily injury, accidents, or damage to personal property. By clicking "Attending," or attending the hike, you confirming that you understand that all outdoor activity such as hiking, backpacking, and trekking have an associated danger, and will not hold any hike lead/organizer, participant, LA Trail Hikers, or any group associated pet responsible for any hazard to your well being. Additionally, you will not be allowed to participate with the group if you are not adequately prepared with enough water and the right gear/equipment/nutrition essential to complete the hike. You are fully responsible for yourself.