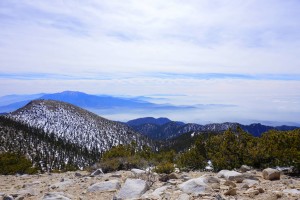 TRAIL NAME: San Gorgonio Peak via Vivian Creek (Part of the SoCal Six Pack of Peaks)
HIKE PREREQUISITE: Must have completed at least a Level 8 or 9 LATH hike with minimal struggle.
HIKE DATE: Friday, October 16, 2015
HIKE LEAD:  Tony Ramos
MEETING TIME:  4:15 am – 4:30 am (Please be on time)
Drive up to trail head at 4:30 am
Return Approx: 7:00 pm
HIKE LEVEL: Level 10+ (Higher Strenuous for non experienced hikers, uphill switchbacks. Distance with steady elevation gain. Good hiking experience required. No Beginners, No Kids, No Dogs)
WHAT IS A HIKING LEVEL?:
Find out more about hiking levels here:
http://latrailhikers.com/about/hike-levels/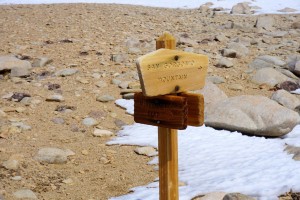 HIKE LENGTH: 18.6 + Miles (Roundtrip)
HIKE DURATION:  12 to 14 hours (approx.)
ELEVATION GAIN: approx. 5,500 ft. with top Elevation of 11,503' (3,506 m)
MEETING LOCATION:
Mill Creek Ranger Station (Parking Lot)
34701 Mill Creek Road
Mentone, CA 92359
NOTE: Please see attendee list and coordinate carpools. Adventure Pass is required for Cars at trail head
PARKING FEE: Adventure Pass Required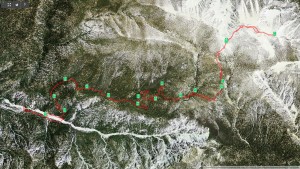 HIKE WALKTHROUGH: San Gorgonio Mountain aka "Old Greyback" is the tallest mountain in Southern California tops out at a respectable 11,503 feet and is located within the San Gorgonio Wilderness, part of the San Bernardino National Forest. Hiking from Vivian Creek trail, this 18-mile out-and-back trail climbs over 5,500 vertical feet. Vivian Creek is the shortest but steepest trail with a climb of approximately 5,500 feet or just over a vertical mile and makes for a very long day hike. There is a restroom facility at the trailhead so you can take care of business before getting started. There are five distinct sections to this trail passing three campgrounds, Vivian Creek Camp (7,100'), Halfway Camp (8,100'), and High Creek Camp (9,200'). The first section provides for a gentle steady climb through the wooded Mill Creek Canyon. The second section is mostly switchbacks with a gain of over 1000 feet and views of Mt. San Antonio to the west. The third section is the easiest of the five with some very lush and green areas following alongside Vivian Creek which is an area where there may be a lot of mosquitoes. The fourth section contains more switchbacks that go past High Creek and up to the tree line where you can admire some beautiful views of San Jacinto in the distance. The last and final section traverses near the ridge of the mountain with very little shade and full exposure to the sun. The section climbs steadily and not too steeply to the summit and can get very cold and windy during the Fall and Winter months. The top is a broad area that does not really feel like a peak but more like a big mound of rocks but has some sweeping 360 panoramic views and is the highest point in So Cal.
This is the sixth of six southern California summits in what is called the 6-Pack of Peaks bundle. This is a good training for anyone preparing for more advanced hikes such as Mt. Whitney or Half Dome. Each of the 6-Pack is progressively higher in altitude, and all have respectable distance and vertical elevation gain.
WATER REQUIRED. WATER CHECK WILL BE PERFORMED. If you do not take enough water or are not appropriately equipped for this hike, you will be turned away from doing this hike with us even if you show up. Please note, that we have high expectations for Level 10 hikers. Be prepared for this level hike.
REQUIREMENTS: WATER, at least 3 liters of water. Electrolytes supplement. A Lunch meal, plus snacks (trail mix, fruits, etc.). Hiking or trail running shoes with good grip and recommend trekking poles. A previous Level 8 or 9 Hike with LATH. Should be able to keep 35 Minute Pace on inclines/uphill. Sunblock, Hat, mosquito repellent/net, light windbreaker, and with minimum of 3 layers for upper body. Flash light for part of the way back down in case it gets a bit dark.
RECOMMENDED: Take some enough snacks & a lunch (trail mix, nuts, granola bars, fruit, etc.) Wear sunscreen, comfortable clothes and shoes. Windbreaker, gloves, beanie, warm jacket in case it is cold and high winds. Trekking poles or hiking stick will help.
DOG FRIENDLY:  No. Dogs are not permitted on Level 10 hikes.
RELATED LINKS:
MAP: