REAL HIKE NAME: Mishe Mokwa Trail (Sandstone Peak) / The Grotto Trail
HIKE DATE: Saturday, January 18, 2014
MEETING TIME: 7:30am
(We'll wait about 15 mins after the meeting time and depart for the trail head  at 7:45am)
HIKE LEAD: Jorge Jimenez
HIKE LEVEL: Level 8  – (Strenuous Hike, Not for Beginners, No Pets, No Kids)
WHAT IS A HIKING LEVEL?:
Find out more about hiking levels here:
http://latrailhikers.com/about/hike-levels/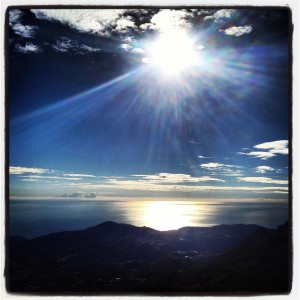 MEETING POINT:
Vons (Parking Lot)
17380 Sunset Blvd.
Pacific Palisades, CA 90272
HIKE DURATION: 7 Hours
HIKE LENGTH: 11-12 Miles
TRAILHEAD ADDRESS:
12554 Yerba Buena Road
Malibu, CA 90265
DRIVE TIME TO TRAILHEAD: 35-45 Mins. (32 miles from Santa Monica)
TRAILHEAD LOCATION: Take PCH towards Malibu. Once reaching the Venture County line make a right onto Yerba Buena Road (just past Neptune's Net Restaurant) and drive up Yerba Buena Road for 6 miles to the Circle X Ranch Ranger Station. Continue driving past the ranger station up Yerba Buena Road another half of mile and turn left into the Sandstone Peak trailhead parking lot.
HIKE LEAD'S NOTE: This hike consist of two hikes done in the same day. The first hike will be The Grotto (3 to 4 miles) and the second hike to Sandstone Peak (7-8 miles) is right across the street from Yerba Buena Road. Some boulder hoping will be required on the Grotto Trail, gloves would be helpful in climbing. Bathrooms are located at the trailhead and the Circle X Ranch Station.
WATER REQUIRED. WATER CHECK WILL BE PERFORMED. If you do not take enough water or are not appropriately equipped for this hike, you will be turned away from doing this hike with us even if you show up. Please note, that we have expectations for Level 8 evening hikers. Read all the details.
REQUIRED: At least 4 to 5 liters of water. Sunscreen and small snacks/lunch bite.
RECOMMENDED: Warm clothing, including gloves, that can be removed along the hike. Mornings do tend to get cold so dress accordingly to the weather.
HIKE WALKTHROUGH:
The Grotto Trail: From the Ranger Station we will hike down The Grotto Trail towards the Group Compound and from this point The Grotto Trail begins. We will be descending 600 ft until we reach The Grotto. This will take us around 30 to 45 minutes to reach from the trailhead parking lot. Along the way we will pass a few small meadows and dry creek beds to Happy Hollow, a small steam side clearing completely covered by old twisted sycamores. Just past the hollow, the streambed fills up with jagged boulders, which grow larger and more angled as you hop across them. The actual Grotto itself is a large flat rock at the bottom of the valley.
Sandstone Peak: From the Sandstone Peak trailhead parking lot we start hiking up the Mishe Mokwa Trail. During the first half mile we will grain 400ft in elevation. During the hike we see Balance Rock across the valley. Our first break will be down at the valley at Split Rock. As we past the Rock we will continue on the Mishe Mokwa Trail passing countless windswept rock formations and a few dry stream beds. From here we will continue to climb in elevation towards the Backbone Trail. The trail hugs a ridge that drops sharply off below it, opening wide vistas in every directions. About three quarters of a mile from Inspiration Point, there's a small sign pointing off the trail and into the forest towards Sandstone Peak. This is the sharpest elevation gain on the entire trail, with some portions undefined and on sheer rock face. It's a challenge! Once at the peak you will have a 360 degree of the surrounding area. You will see miles and miles of Southern California mountains and coastline unfurl before you.
IS IT DOG-FRIENDLY?:  No. Dogs are not brought to higher level hikes for group safety precautions.
RSVP:
Facebook – https://www.facebook.com/latrailhikers/events

HOW DO I PARTICIPATE WITH THE GROUP ON THIS HIKE?
1. Read the Hike's Details we link at the very top of this page.
2. Make sure that the Hike Level accommodates your hiking experience.
3. If, and only if it suits you, then RSVP for this event and show up the day of the hike with all necessary gear and water (we mention everything you need on the details page for this hike).
MY FRIEND SAID I CAN DO THIS HIKE, I SHOULD BE ABLE TO DO IT, RIGHT?
Contrary to popular belief, you know your body and hiking experience better than your friends. Whether you are a first-timer or an experienced hiker, please read our hike details page as the hike may not suite your experience level. We have a better experience if every hike has hikers of the intended level.
DISCLAIMER: LA Trail Hikers and its Leads/Organizers/Participants do not take responsibility for any harm,bodily injury, accidents, or damage to personal property. By clicking "Attending," or attending the hike, you confirming that you understand that all outdoor activity such as hiking, backpacking, and trekking have an associated danger, and will not hold any hike lead/organizer, participant, LA Trail Hikers, or any group associated pet responsible for any hazard to your well being. Additionally, you will not be allowed to participate with the group if you are not adequately prepared with enough water and the right gear/equipment/nutrition essential to complete the hike. You are fully responsible for yourself.
MAP: