TRAIL NAME: Schabarum Regional Park Trail, Rowland Heights/Hacienda Heights
HIKE DATE: Monday, January 28, 2019
MEETING TIME: 8:30 am to 8:45 am
(We'll wait at most 15 mins past the meeting and leave the trail head/meeting point at 8:45 am)
Return Approx: 11:45 am
HIKE LEAD: Carol Martinez
HIKE LEVEL: Level 4 – Mild/moderate uphills, slight gain sections. Sun exposure.
HIKE LEVEL: Level 5 – Moderate uphills,  some quick gain sections. Sun exposure.
WHAT IS A HIKING LEVEL?:
Find out more about hiking levels here:
http://latrailhikers.com/about/hike-levels/
HIKE RSVP:
https://www.facebook.com/latrailhikers/events
HIKE DISTANCE: 4.5 Miles (Round trip)
HIKE DURATION: 2.5 Hours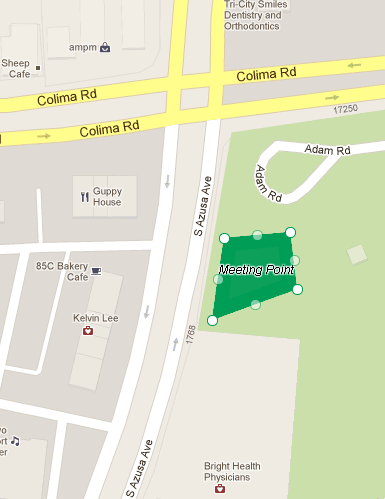 MEETING LOCATION:
Schabarum Park trail head at corner of Colima Rd. & Azuza Ave.
(This will be across the street from the 85°C Bakery 17170 Colima Rd.
Hacienda Heights, CA 91745)
FROM LONG BEACH:
1. Take the 710 Fwy North OR the 605 Fwy North
2. Take the 60 Fwy East
3. Exit on S. Azusa Avenue
4. Make a right onto S. Azusa Avenue
5. Continue south, until you pass Colima Road
6. You can park inside Schabarum Park (for a fee of $6.00) or you can park on the street crub along Azusa Ave on the side where the PIH Buildings.
7. Meet at the area designated in the green area.
8. Please reference the map to the right. FOR A ZOOMABLE MAP, please reference the map at the bottom of this page.
PARKING: You can park inside Schabarum Park (for a fee of $6.00) or you can park on the street crub along Azusa Ave on the side where the PIH Buildings.
HIKE WALKTHROUGH: We begin at the bottom of the Schabarum Park trail head. We will be going up hill with a good amount of gain for most of the hike. Expect most of the trail to have unshaded sections. We will have multiple stops along the way to help with some of the challenging, but short inclines (about 4 of them). As we have in the past, we will not hike the traverse the trail since it will lead us out another direction which may not be suitable for our hikers. However, we do get to the highest peak of the trail! You will get a great view of the surrounding cities. That's what we consider the turn back point and head back down path we went up.
WATER REQUIRED. WATER CHECK WILL BE PERFORMED. If you do not take enough water or are not appropriately equipped for this hike, you will be turned away from doing this hike with us even if you show up. Please note, that we have expectations for Level 6 evening hikers. Read all the details.
REQUIREMENTS: WATER (at least 1.5 to 2.5 liters). Keep in mind that that the hot weather may require you to carry a little extra water than you're used to.
RECOMMENDED: Comfortable hiking/sports shoes with good grip, a snack. It may be sunny so wear sunscreen and a hat if you have one.
DOG-FRIENDLY?: Experience dogs only, on a leash.
INFO LINK:
– http://parks.lacounty.gov/wps/portal/dpr/Parks/Peter_F_Schabarum_Regional_Park
HOW DO I PARTICIPATE WITH THE GROUP ON THIS HIKE?
1. Read the Hike's Details we link at the very top of this page.
2. Make sure that the Hike Level accommodates your hiking experience.
3. If, and only if it suits you, then RSVP for this event and show up the day of the hike with all necessary gear and water (we mention everything you need on the details page for this hike).
MY FRIEND SAID I CAN DO THIS HIKE, I SHOULD BE ABLE TO DO IT, RIGHT?
We take your safety quite seriously, and would not like for you to attend a hike you're not ready for. You know your body and hiking experience better than your friends. Whether you are a first-timer or an experienced hiker, please read our hike details page as the hike may not suite your experience level. We have a better experience if every hike has hikers of the intended level.
DISCLAIMER: LA Trail Hikers and its Leads/Organizers/Participants do not take responsibility for any harm,bodily injury, accidents, or damage to personal property. By clicking "Attending," or attending the hike, you confirming that you understand that all outdoor activity such as hiking, backpacking, and trekking have an associated danger, and will not hold any hike lead/organizer, participant, LA Trail Hikers, or any group associated pet responsible for any hazard to your well being. Additionally, you will not be allowed to participate with the group if you are not adequately prepared with enough water and the right gear/equipment/nutrition essential to complete the hike. You are fully responsible for yourself.
MAP: