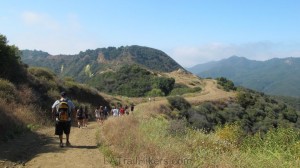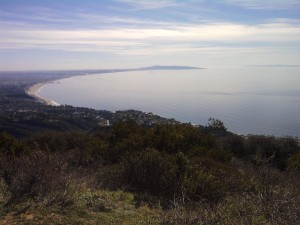 TRAIL NAME: Parker Mesa Overlook from Trippet Ranch at Topanga State Park
HIKE DATE:  Saturday, August 05, 2017
MEETING TIME: 7:00 am to 7:20 am
(We'll wait at meeting point, and depart the meeting point at 87:20 am)
Return Approx: 11:30 am
HIKE LEAD:  Isabel Fonseca
HIKE TYPE:  Level 6 – (Longer distance and sun exposure)
WHAT IS A HIKING LEVEL?:
Find out more about hiking levels here:
https://latrailhikers.com/about/hike-levels/
HIKE RSVP:
https://www.facebook.com/latrailhikers/events
HIKE LENGTH: 6 Miles (Round trip)
HIKE DURATION: 3 Hours (approx)
MEETING LOCATION:
VONS (Parking Lot)
17380 Sunset Blvd.
Pacific Palisades, CA 90272


We'll be driving to the trail head from the meeting point as a group caravan.
TRAILHEAD LOCATION:
Topanga State Park – (Trippet Ranch Parking Lot)
20829 Entrada Rd
Topanga, CA 90290
DRIVE FROM MEETING POINT TO TRAILHEAD: 5-7 mins.
NOTE: There is a $10 cash parking fee per car, payable at the gate. Adventure Passes ARE NOT valid at this park. However, if you park just outside the park (off the pavement) in designated areas, you can park for free and walk into the park parking lot.
HIKE WALKTHROUGH: The hike will start at the Topanga State Park Trippet Ranch parking lot. We'll head up a good stead incline for about 1/2 mile.  From there we'll keep encountering small bumps on a quite leveled trail. The trail itself is more of a wide fire road, so bring your most comfortable shoes.  We'll have a great view of the two valley sides. Once again we'll hit another steady incline area that will lead us out to the the meeting point of other trail. From there it will only be about 1/4 of a mile out to a beautiful overlook of the oceanside and the shores of the Los Angeles area.
WATER REQUIRED. WATER CHECK WILL BE PERFORMED. If you do not take enough water or are not appropriately equipped for this hike, you will be turned away from doing this hike with us even if you show up. Please note, that we have expectations for Level 6 hikers. Read all the details.
REQUIRED: At least 1.5 to 2 Liters of water, sunscreen, hat, and small snacks/lunch bite.
RECOMMENDED: Comfortable shoes (hiking shoes optional), hiking pole, shorts are okay to keep cool.
DOG-FRIENDLY?:  No. Dogs are not allowed on these trails.
INFORMATIVE LINKS:
HOW DO I PARTICIPATE WITH THE GROUP ON THIS HIKE?
1. Read the Hike's Details we link at the very top of this page.
2. Make sure that the Hike Level accommodates your hiking experience.
3. If, and only if it suits you, then RSVP for this event and show up the day of the hike with all necessary gear and water (we mention everything you need on the details page for this hike).
MY FRIEND SAID I CAN DO THIS HIKE, I SHOULD BE ABLE TO DO IT, RIGHT?
We take your safety quite seriously, and would not like for you to attend a hike you're not ready for.  You know your body and hiking experience better than your friends. Whether you are a first-timer or an experienced hiker, please read our hike details page as the hike may not suite your experience level. We have a better experience if every hike has hikers of the intended level.
DISCLAIMER: LA Trail Hikers and its Leads/Organizers/Participants do not take responsibility for any harm,bodily injury, accidents, or damage to personal property. By clicking "Attending," or attending the hike, you confirming that you understand that all outdoor activity such as hiking, backpacking, and trekking have an associated danger, and will not hold any hike lead/organizer, participant, LA Trail Hikers, or any group associated pet responsible for any hazard to your well being. Additionally, you will not be allowed to participate with the group if you are not adequately prepared with enough water and the right gear/equipment/nutrition essential to complete the hike. You are fully responsible for yourself.
MAP: